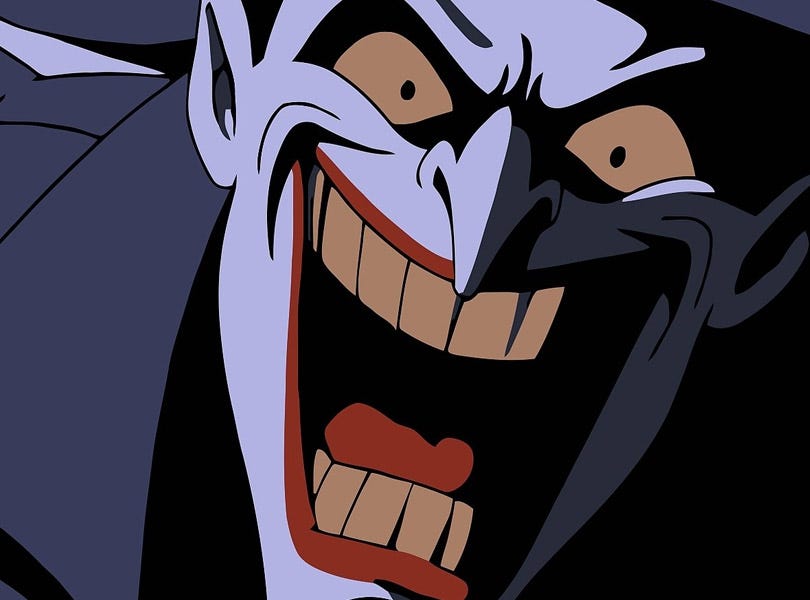 DC's Joker character is well known for his violent antics and heinous crimes in Gotham City and perhaps even the world. His murder count is off the charts and he does not discriminate when it comes to his victims. Citizens of all ages have felt the sheer terror of the maniacal Clown Prince of Crime. We thought it would be fun to look back at some of our favorite outfits and unique looks the Joker has worn throughout the years. We hope you enjoy!
10) The Dark Knight Returns (1986)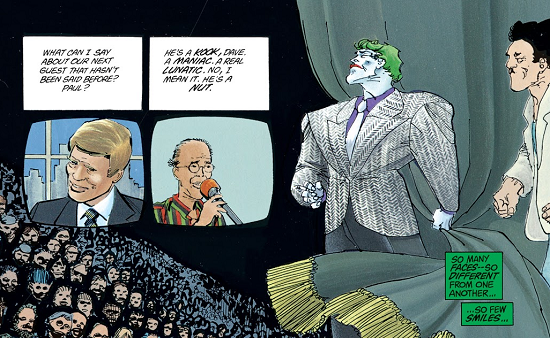 When you have a date with destiny or in this case, Batman, it's not a bad idea to wear your "Sunday best." Once confined to the lonely halls of Arkham Asylum, the Joker spent nearly a decade in a catatonic state after the caped crusader went radio silent. Once news finally hit Arkham of the Dark Knight's return, Joker and his evil conscious finally awoke from their slumber. Now dressed to kill, whacky mayhem ensues with Joker taking over a TV show and murdering its guests. Eek!
9) Joker (2008) Graphic Novel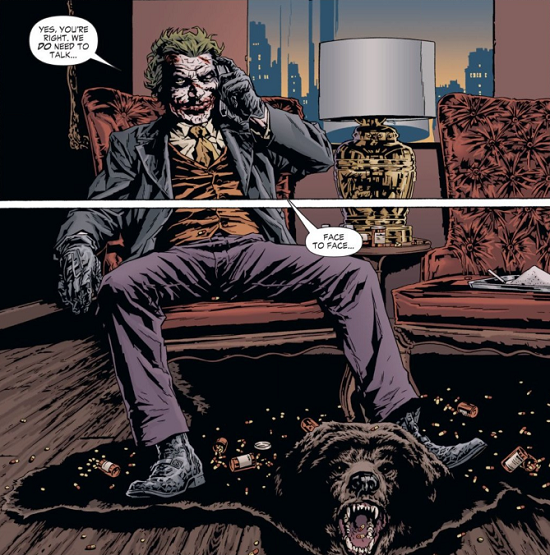 There are plenty of horrible jobs out there and many folks might even believe theirs is quite possibly the worst. However, Johnny Frost, a low-level street punk, might have them beat as Joker's personal chauffeur and human shield. In this graphic novel, Gotham is no longer Joker's city and if you're going to do business with the likes of Killer Croc, Penguin, Riddler, and Harvey Dent you had better dress the part. His orange vest and necktie bring about a certain level of fun and sophistication. Such an affinity of color just pops amongst the blood, pills, and bearskin rug.
8) Ninja Batman (2018)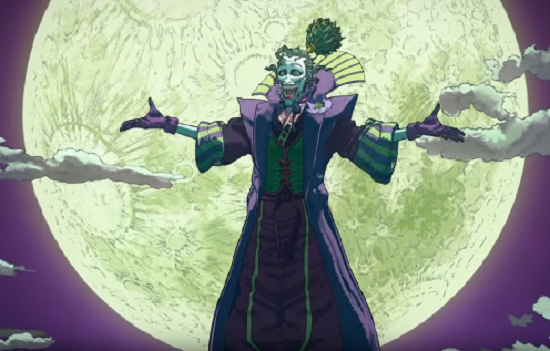 It's safe to say the Joker has always been resilient and adaptable and Gorilla Grodd teleporting him to feudal Japan is no exception. Just look at these classy new digs the Joker, Demon King of the Sixth Heaven is wearing. His puffy pants and elegant purple robe would certainly turn heads during fashion week. This outfit could very well land him on the cover of Vogue, People, Teen People, and Vanity Fair to boot.
7) Batman #1 (1940)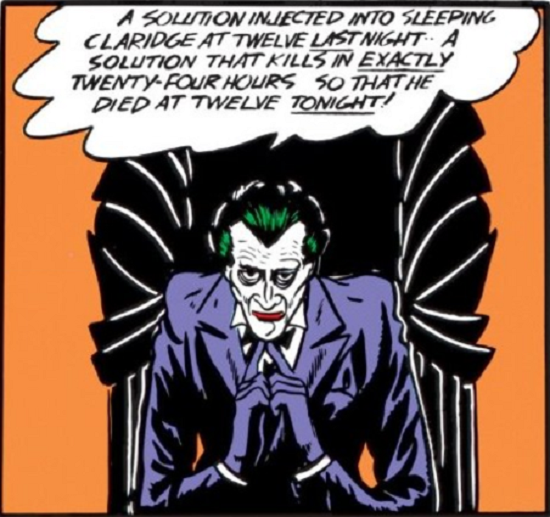 It all started with the Joker's first appearance in Batman #1 dating all the way back to spring 1940. The well-dressed clown sits while digesting a diabolical scheme of murder and intrigue I do declare... You can't go wrong with the classic Joker look. It's an oldie, but goodie for sure.
6) Injustice: Gods Among Us (2013)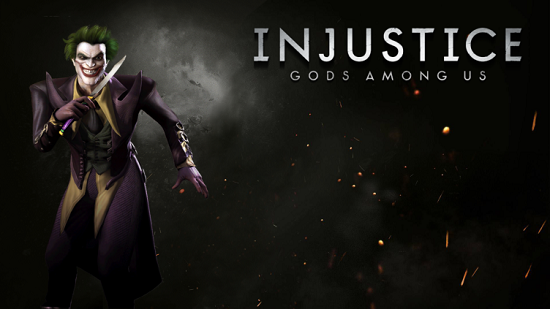 We absolutely love the look of the Insurgency Joker from hit video game Injustice: Gods Among Us. The yellow tails, cuffs, and collar just screams look at me whilst I kill you. Look closely and you'll notice buckled straps on his sleeves, which is a nice touch to say the least. Throw in a knife and crowbar and you have a recipe for pain and discomfort.
5) Batman: White Knight (2017)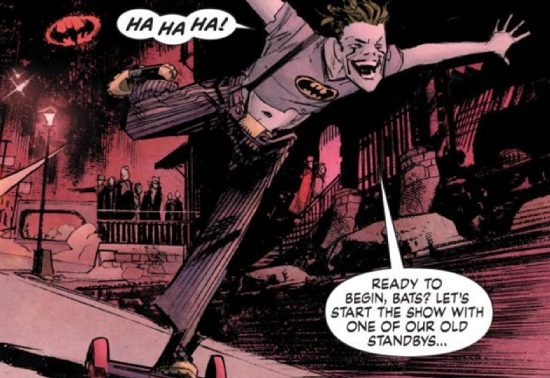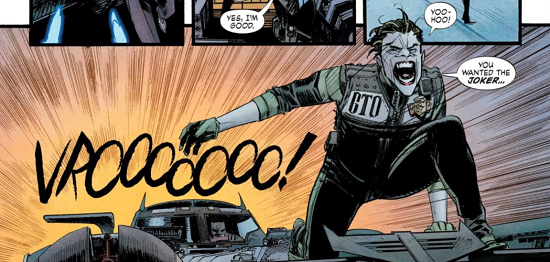 Batman: White Knight features two looks we find comical and stylish. A combination of both casual Friday and Joker joined the work force. Both styles take the Joker in a unique direction. The suspenders and crop top made us laugh with glee, while the GTO (Gotham Terrorism Oppression) uniform shows us not all heroes wear capes. Move over Judge Dredd, this time, Joker is the law.
4) Batman: Arkham City (2011)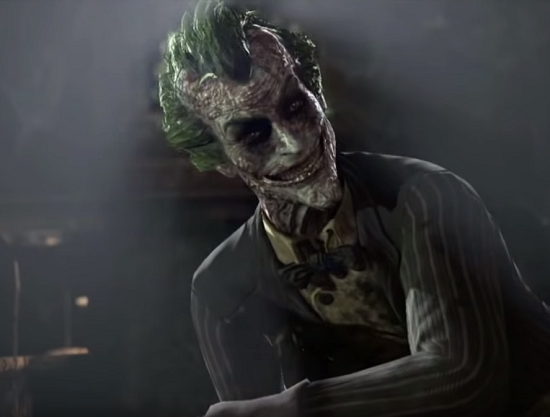 The follow-up to the 2008 smash hit Batman: Arkham Asylum has Joker knocking on death's door. The laughs slow down just a tick while the Joker is suffering from the effects of the Titan formula. Regardless, of his health, the Joker doesn't disappoint in the looks department. Sure he's sporting a more traditional set of attire, but look at the smile on that face full of pustules. A little elbow grease and can-do attitude have the Joker out of bed and wreaking havoc all over Gotham.
3) The Dark Knight (2008)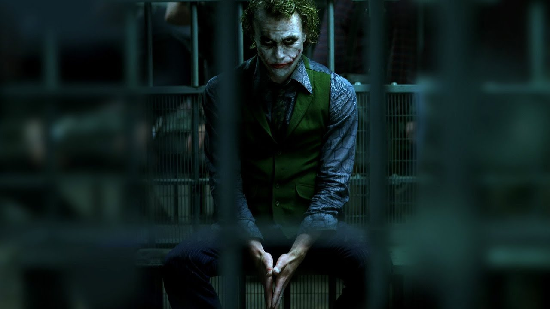 Heath Ledger brought the Joker to life in Christopher Nolan's The Dark Knight. His performance captivated audiences and he certainly looks the part. We think back fondly on Lt. Gordon saying "Clothing is custom, no labels. Nothing in his pockets but knives and lint." The Joker looks so dapper while waiting for the right time to strike. Legally, the man is entitled to one phone call.
2) Batman: The Killing Joke (1988)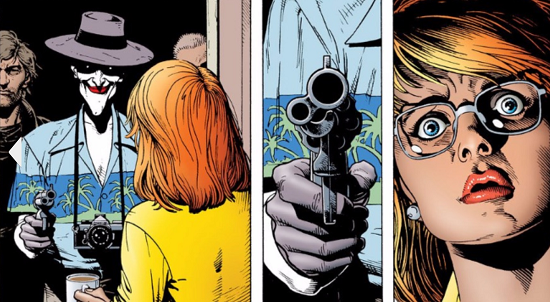 The "aloha look" just got creepy. On the surface, the Joker appears like he's ready to have a great time on vacation. Unfortunately, it comes at the expense of Barbara Gordon. Horrible events transpire in her apartment and the camera around the Joker's neck captures all of it. Yowza!
1) Batman: Death of the Family (2012)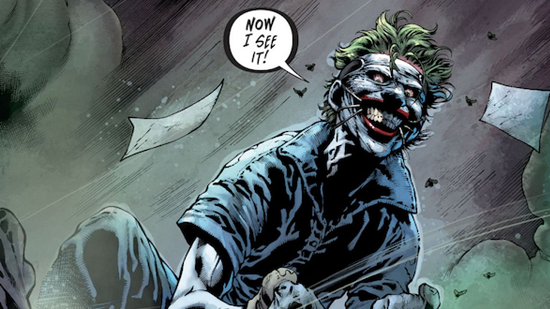 Finally, we come to our favorite on the list. It doesn't get much better than having your own face surgically removed and tying it back on with some string. So what if it's slowly becoming necrotic and maggots are finding their way around the surface? It's theater, and no one shows up the Clown Prince of Crime.
Did your favorite Joker look make the cut? If not, please share yours in the comments below. We would love to hear from you. Also, if you're a fan of baddies and their evil ways, be sure to check out our Villains Mystery Box. Inside you will find seven items that fit our villain theme including a Thanos S.H. Figuarts. A few lucky winners will get their hands on a Darth Vader Meisho Movie Realization.