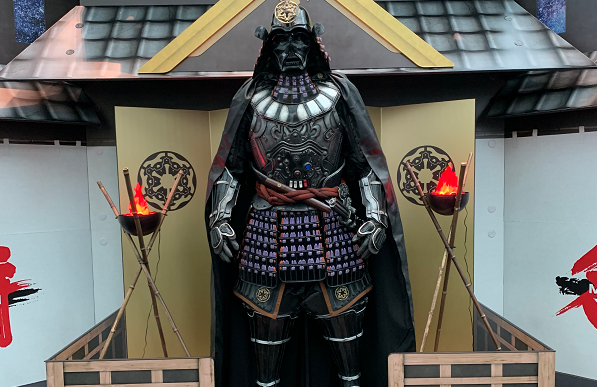 New York Comic-Con has come and gone, and with it our Tamashii Nations Star Wars display at the Crystal Palace, located inside the Javits Center. There we had a life-size Meisho Darth Vader replica, complete with wearable samurai armor. Each day attendees of all ages lined up to have their photos taken with the dark lord. The statue was the ultimate centerpiece for our booth, and we photographed all of the contest winners from our Scouter Stamp Rally in front of it. Hopefully you had a chance to swing by our booth and check in with us to see what's in store for our Star Wars samurai figures.
The entire Meisho Movie Realization figure line was on display at our booth, including the First Order Stormtrooper, Kylo Ren and Captain Phasma. All three figures are set to release in the coming weeks--just in time for The Rise of Skywalker. The Ashigaru First Order Stormtrooper will be the first to arrive of the new figures. It comes packed with three pairs of optional hands, katana, scabbard and blaster rifle. Look for the Ashigaru First Order Stormtrooper to hit shelves at the beginning of November. Kylo Ren and Phasma will arrive in stores shortly thereafter.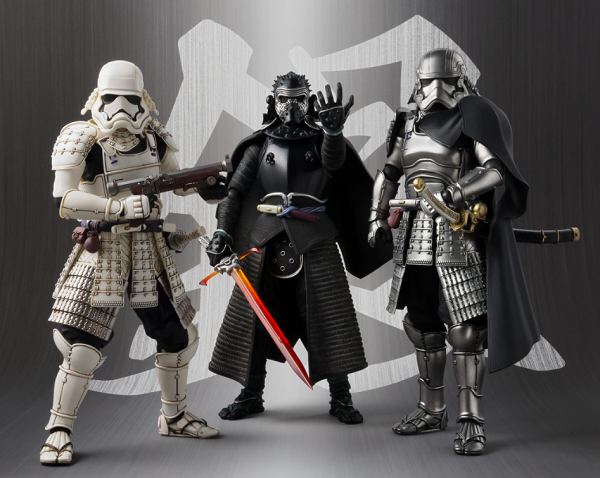 Admiral Ackbar and IG-88 Prototypes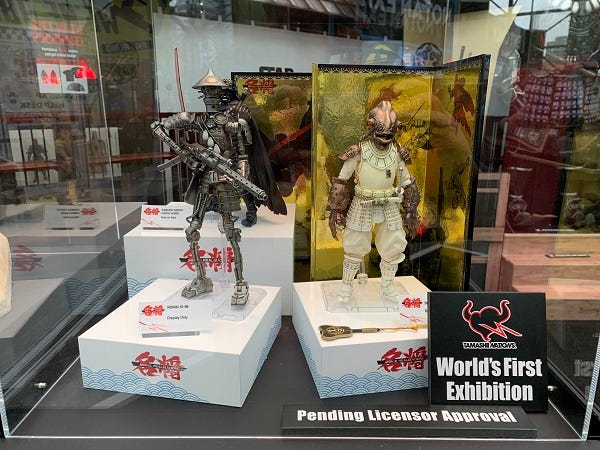 Our surpirse guests, Admiral Ackbar and IG-88 (Prototypes Pending Licensor Approval) turned a lot of heads over the weekend. Nearly every person we spoke with wanted to take these two home with them from the convention. Both figures feature extraordinary detail. If you look closely at Ackbar, you will see the head is actually a helmet, and the samurai's face is visible through the mouthpiece.  Look again, and you'll notice the hands are gauntlets, and the soldier's hands are located behind the gauntlets.
On September 27, 2019 we revealed our new Star Wars: The Rise of Skywalker model kits from Bandai Hobby. This new line features three vehicles and three figures from the upcoming feature film. Our figure kits include a diorama of BB-8 and D-0, the newest droid in the Star Wars universe. We also have a First Order Stormtrooper complete with F-11D Blaster Rifle, Z6 Riot Control Baton and Riot Shield. Let's not forget about Kylo Ren. The Supreme Leader comes with two light sabers (one with in-motion effects), a hilt, cape and hood. The vehicles include an X-Wing with a R5 astromech droid, Poe Dameron's X-Wing with R2-D2 and the Millennium Falcon.