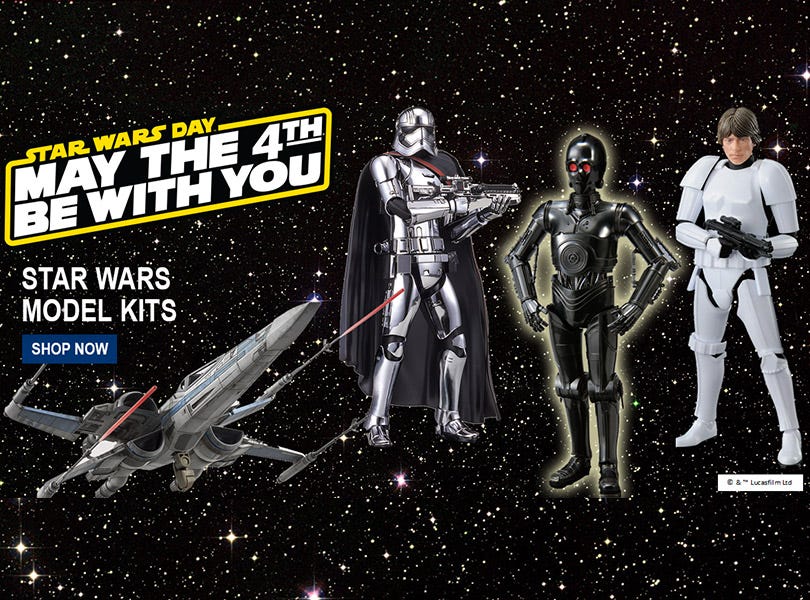 May the Fourth Be with You, originally started as a great pun and good excuse to get with your friends and talk about Star Wars or re-watch all the episodes. It wasn't long till Revenge of the Fifth join and added onto the time enjoy the Universe of Star Wars. With May 25 being the original Star Wars release date, it's no surprise that May has become a month to celebrate the characters and adventures in that Galaxy Far Far Away. Now known as Star Wars Day, with Galaxy's Edge in the Disney Parks opening soon and the release of Star Wars Episode XI: The Rise of the Skywalker later this year, there is no better time to be a Star Wars Fan!
In celebration of Star Wars Day, we are offering Bandai Star Wars Model kits and Star Wars Meisho Movie Realization Figures in our shop for a limit time! There is the Prequel Meisho Bundle featuring the Samurai Inspired versions of everyone's favorite double-bladed lightsaber wielding Sith Lord, Darth Maul, and the Republic's most notorious mercenary and bounty hunter, Jango Fett. There is also the Imperial Squad Bundle featuring 5 different 1/12th Stormtrooper model kits, including the new Scout trooper with speeder bike! There is even the massive 1/6th Stormtroopers models that stand over a foot tall, both the Shadow Stormtrooper and original Stormtrooper are available together as a low-priced bundle. For those who were unable to go to Star Wars Celebration in Chicago in April, the new event exclusive 0-0-0, Dr Aphra's Sassy Protocol Droid with a love for torture is available online for a short time, so do not miss out on this Sassy Droid for your collection. Find even more great Model Kits and Figures in our shop under the Star Wars Day Banner!
And the great thing is that you don't have to wait for May the Fourth, the sale is already on, so don't miss out on these specials, they are limited in quantity, and the sale ends on May 6th!
May the 4th be With You!