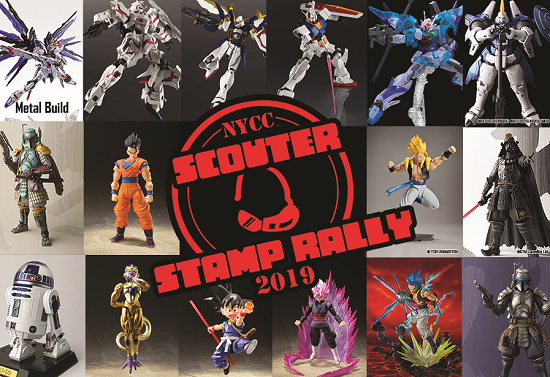 This New York Comic Con, Bluefin will be holding a stamp rally with participating New York retailers. Participants will be able to get free swag at four locations, and then return to NYCC for a chance at one of our grand prizes.
Beginning at 4:00pm, Thursday October 3rd, attendees of NYCC will be able to pick up a postcard from Bluefin's Crystal Palace display of Star Wars Movie Realization figures. The postcard will allow individuals to go to four local retailers for a free giveaway (while supplies last), and to receive a stamp on their postcard. Once you've collected your stamps, return the postcard to the Crystal Palace and you will receive raffle tickets equal to the number of stamps you got. Collect all four to maximize your chances.
The participating retailers are; Midtown Comics (Times Square), Kinokuniya, Image Anime and Forbidden Planet NYC. Each of these amazing stores will have giveaways for participants (while supplies last). If this is your first time in a particular shop, this would be a great time to check out all the amazing toys, comics and collectibles on display. Don't forget to get your postcard stamped before heading to the next location.
NYCC prize drawings will take place on Friday, Saturday and Sunday at 4:00pm at the Crystal Palace, where you received and dropped off your postcard. Winners must be present to win and will be picked at random. So, what could you win? Friday's prizes are geared towards Star Wars. Afterall, it is Force Friday. On Saturday, we will be giving away an event exclusive Metal Build - Strike Freedom Gundam SOUL BLUE Version, along with some Gundam Universe figures. Sunday is for Dragon Ball, we will have some of the Dragon Ball World Adventure figures, as well as some other Dragon Ball goodies. If that wasn't enough, we will be handing out some of our Star Wars Meisho swag; shirts, pins and fans.
The Crystal Palace at NYCC will also be home to a number of great Star Wars promotions. Star Wars Movie Realization figures will be buy one, get one half off. In addition, for each pair of figures you pick up, you will receive a Star Wars shirt, pins and a cool Japanese fan.
Keep up with everything NYCC-related by following us on Facebook, Twitter and Instagram.