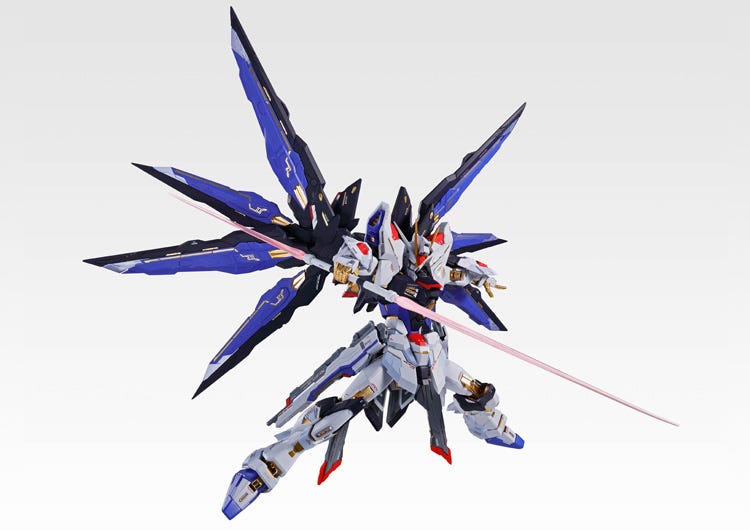 New York Comic-Con is just days away and we are so excited to have this gorgeous Metal Build Strike Freedom Gundam at booth 1903. The custom assault mobile suit piloted by Kira Yamato, is a technical marvel that pushes the boundaries on aerial combat. Maneuverability is hardly an issue as the Strike Freedom Gundam features mobile weapon wings, which are highly posable on this metal build. If peacocking is a thing in the Gundam Universe, you better believe the Strike Freedom Mobile Suit is ranked at the top of the list. This Gundam just screams "don't mess with the best!"
Metal Build Strike Freedom Gundam Soul Blue Ver.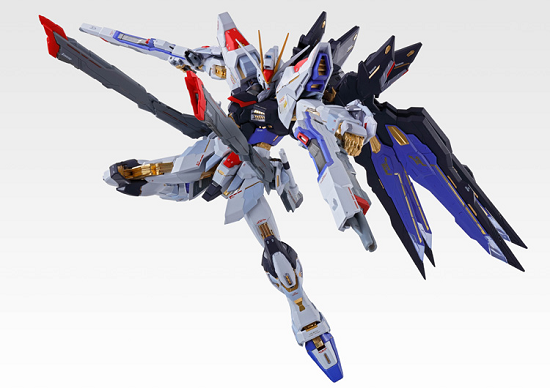 What's Included:
•x2 MA-M02G Beam Saber with hilt (combinable)
•x2 MA-M21KF High Energy Beam Rifle (combinable)
•x2 MMI-M15E Railguns (left and right)
•x2 MX2200 Beam Shield
•x6 Pairs of Hands (Interchangeable)
•x1 Base with Stand
•x1 8 Piece Wing Set
Head over to booth 1903 to get your hands on this beauty. Quantities are extremely limited, and we will not be issuing tickets. This item is first come, first served. Additionally, those of you that purchase the Metal Build Strike Freedom Gundam are eligible to win a special prize from our daily raffle. To enter, share a picture with the metal build that you just purchased and tag #BluefinMetalBuild on your social media. This will automatically enter you for a chance to win one of several prizes.
Be sure to check out our complete list of convention exclusives that will be available from Tamashii Nations, Bandai Hobby, and Storm Collectibles.
NYCC Attendees will also want to visit the Crystal Palace, where we will have a Japanese-inspired village celebrating our Meisho Star Wars figures. Buy one Star Wars Meisho figure and get half off the second figure. Also, buy any Star Wars Meisho figure and get a free Meisho pin, shirt, and fan. We'll also have a photo op with a life-size Meisho Darth Vader in a full suit of armor.
We hope to see you there!