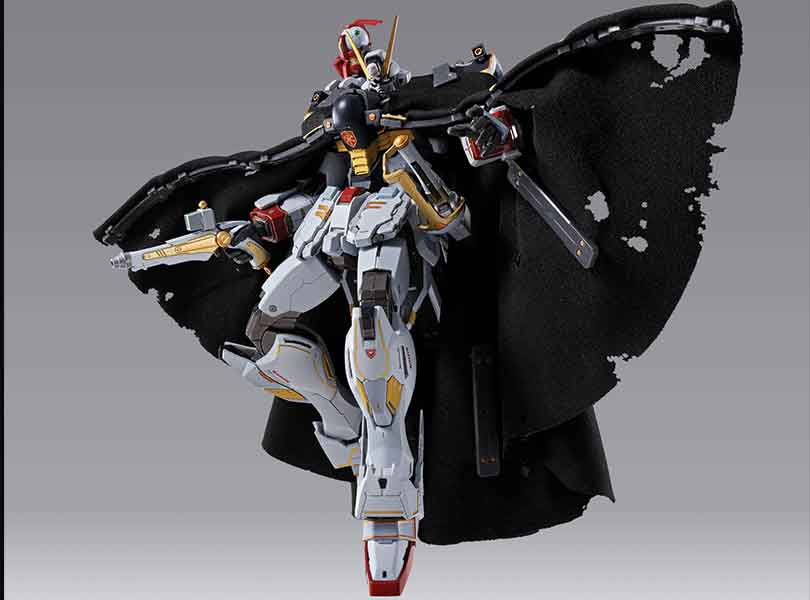 XM-X1 Crossbone Gundam X-1 is a testbed mobile suit in the Universal Century developed by the Earth Federation's Strategic Naval Research Institute (SNRI). It was featured in the Mobile Suit Crossbone Gundam manga series.
The XM-X1 Crossbone Gundam X-1 is the first F97 model mobile suit to be built and put into service by Berah Ronah's revived Crossbone Vanguard. It would serve as their flagship mobile suit piloted by Kincade Nau. In the Crossbone X-1, Kincade would lead many of the fights against the Jupiter Empire, using his honed skills to make the Crossbone X-1 a terror on the battlefield. His combat skill was so refined that none of his opponents were ever able to force Kincade to use the Crossbone X-1's shield.
This heroic MOBILE SUIT CROSS BONE GUNDAM, from the Gundam series, joins the absolute METAL BUILD line! The figures stands 6.7" tall and is made of die cast metal and plastic. The distinctive cape is included, with an added damaged texture.
The set includes an antenna, exchangeable head, exchangeable hands (L×4/R×5), a cape, Billy, a core fighter, a buster gun, a warhead, a beam zamber and blade×2 , brand marker blade×2, beam shield blade×2, an anti-beam shield, heat dagger×2, Beam Saber×2, scissor anchor chain×2, a special display stand and display support parts.
MSRP: $240.00
Release Date: 2/20/2019
*this is an allocated item