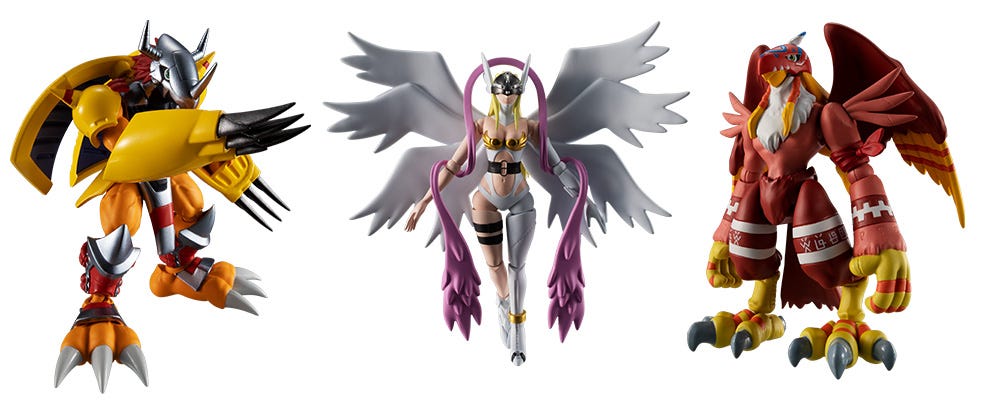 Now is the time for the evolution of Digimon figures. Digimon Shodo 1 Complete Set W/O Gum is now available for pre-order exclusively on Premium Bandai US. This complete special set is the first wave of the Digidestined partners. Digimon Included in the set:
Wargreymon, a dragon warrior Digimon in its Mega form. Its ultimate attack, which gathers all the energy as a condense shot, is Gaia Force!
Angewoman, an archangel Digimon in its ultimate form. Its ultimate attack is the powerful lightning strike - Holy Arrow!
Garudamon, a bird Digimon who have gigantic claws and wings that allow it to fly freely in the sky. Its ultimate attack is Shadow Wing!
Each partner Digimon is H80mm x W60mm (3.15 in x 2.3 in) and can be posed to thanks to their articulated joints. All three figures are made with Bandai quality PVC and ABS plastic. They are detailed and beautifully painted to be accurate to the anime colors.
As an EXCLUSIVE PREMIUM GIFT from P-Bandai, this set includes three special display stands, made with MABS plastic, with each character's respective Digicrest. The crest of love for Garudamon, the crest of light for Angewoman, and the crest of courage for Wargreymon.
"Symbolizing the traits of the destined children, who have strong bonds with their partner Digimons, the crests with the power that lets Digimons evolve are printed on the special display stands!"
The three items with separate packaging are included in this special box. Moreover, the package design features an illustration newly drawn by "The Father of Digimon" Mr. Kenji Watanabe!
Shown on the Premium Bandai website are silhouettes of what could be included in a future set. We can see MagnaAngemon, MetalGarurumon, and MegaKabuterimon.
We look forward to the release of this item, along with it future items as the Digimon Adventure anime continues this year. Do not miss this MUST-BUY item for Digimon fans!
[Set content]
Figure, Display Stand Set (3 Types)
Gum is not included.
[Pre-order Limitation]
24 pcs per person