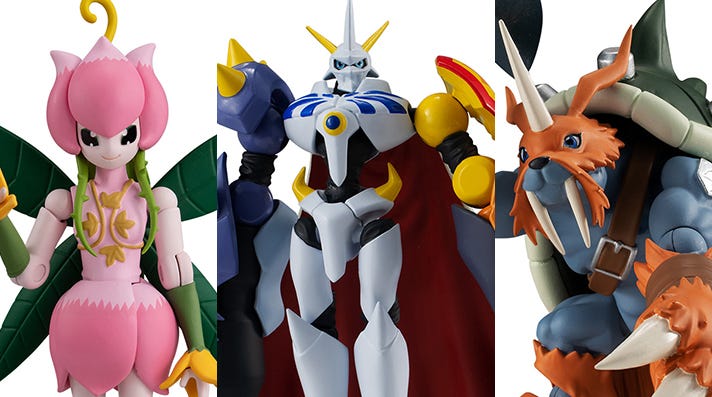 Starting today, the next wave in the Shodo Digimon line is available for pre-order on Premium Bandai USA. Over the course of the year, P-Bandai USA has released many fantastic exclusives from various franchises, including Shodo Digimon 1 and 2 from Shokugan. We're excited to offer these amazing figures to the customers and love to see Digimon grow further in the US. Digivolve into Ultimate!
Premium Bandai USA is Bandai's official online store and focuses on high quality anime, video game, and Tokusatsu merchandise. These limited edition and variant products include action figures, model kits, jewelry and an array of other collectibles based on many popular anime and video game properties.
Premium Bandai sells highly sought-after and exclusive collectibles from various Bandai-owned brands directly to customers. Many rare and limited-edition releases that were, until now, available only to the Japanese market. This catalog has been expanded to feature items from Bandai Spirits, Tamashii Nations, Shokugan and Hobby.
Shodo Digimon 3 Set brings the remaining 2 of the DigiDestined partners and the Legendary Warrior in this highly-collectible series and they are:
Lillymon: The fairy Digimon in her Ultimate form. She fires an energy ball with her ultimate attack "Flower Cannon."
Zudomon: The sea animal Digimon in its Ultimate form. Zudomon's ultimate attack "Vulcan's Hammer" uses the mighty Thor's hammer to send sparks and shockwaves at opponents.
Omegamon (Omnimon): A Warrior Digimon and one of the "Royal Knights." Fused from WarGreymon and MetalGarurumon. Uses attacks such as "Supreme Cannon" and "Transcendent Sword."
These three are launching exclusively on Premium Bandai USA as a set. All three figures have amazing articulation and high-quality details.
Included with this set are exclusive display stands featuring the Digicrest of Sincerity and Reliability, along with a special display stand for Omegamon featuring the Digicrest of Frienship and Courage.
That's not all, as this set is packaged with a very special and newly drawn illustration by Kenji Watanabe, famed Digimon designer, featuring all three of the Digimon in the set.
You can combine all 3 box art to form one amazing image!
"The pre-order period for this item may end suddenly (despite any previously announced pre-order end date) if the maximum order limit is reached. In this case, pre-order cancelations will no longer be available for this item from that time onward as well."
[Set content]
Figure, Display Stand Set (3 types)
Candy not included
[Pre-order Limitation]
24 pcs per person
*Product descriptions provided by Bandai Candy Toy and Premium Bandai USA
If you're a huge fan of the series and have collected the previous 2 sets, or you enjoy collecting Shokugan products, then you definitely don't want to miss out on this set. Don't delay, Pre-order your Shodo Digimon 3 set today!
Did you order the previous Shodo Digimon sets? Which Digimon partner is your favorite? Let us know in the comments down below.
Follow us @BluefinBrands on Facebook, Instagram, and Twitter for the latest announcements, news, and giveaways.