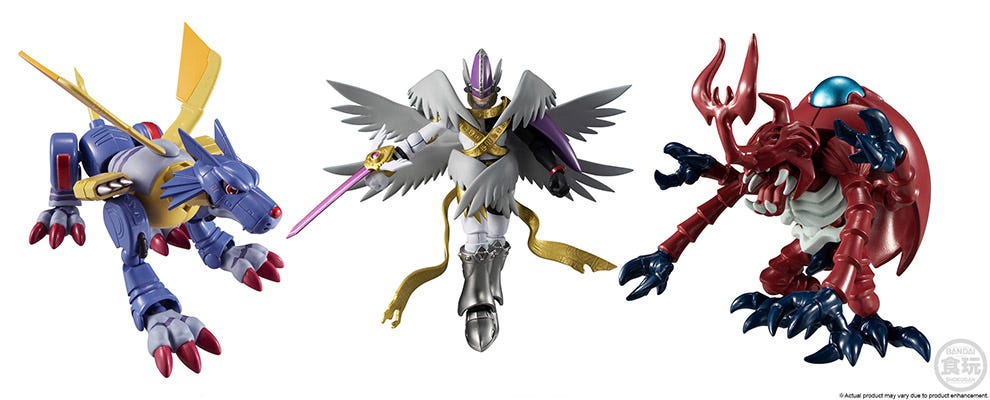 Earlier this year Premium Bandai USA released a pre-order for Shodo Digimon Complete Set, which are collectible figures from Shokugan, featuring three of the Digidestined partners: Wargreymon, Angewoman, and Garudamon. The line continues with Shodo Digimon 2 Complete Set, now available for pre-order on Premium Bandai USA.
Premium Bandai USA is Bandai's official online store and focuses on high-quality anime, video game, and Tokusatsu merchandise. These products vary from action figures, model kits, jewelry, and an array of other collectibles based on many popular Bandai properties.
Shodo Digimon 2 Complete Set brings three more of the Digidestined partners in this highly-collectible series, and they are:
MetalGarurumon: A metal wolf Digimon in its Mega form. Its ultimate attack launches freezing missiles hidden throughout its body - Grace Cross Freezer!
MagnaAngemon: An archangel Digimon preserving the order of the Digital World in its Ultimate form. Its ultimate attack manifests a door to space - Gate of Destiny!
MegaKabuterimon: An insect Digimon in its Ultimate form. Using its ultimate attack - Horn Buster!
Similar to the previous set, these three are launching exclusively on Premium Bandai USA as a set. All three figures have amazing articulation and high-quality details. Included with this set are exclusive display stands featuring the Digicrest of friendship, hope, and knowledge. That's not all, as this set is packaged with a very special and newly drawn illustration by Kenji Watanabe, famed Digimon designer, featuring all three of the Digimon in the set.
"The pre-order period for this item may end suddenly (despite any previously announced pre-order end date) if the maximum order limit is reached. In this case, pre-order cancelations will no longer be available for this item from that time onward as well."
[Set content]
Figure, Display Stand Set (3 types)
Candy not included
[Pre-order Limitation]
24 pcs per person
Specifications
Size:
Approx. H 80mm x W 60mm (H 3.15" x W 2.36")
Materials:
Main Body: PVC, ABS
Display Stand: MABS
*Product descriptions provided by Bandai Candy Toy and Premium Bandai USA
If you're a huge fan of the series or you enjoy collecting Shokugan products, then you definitely don't want to miss out on this set. Don't delay, Pre-order your Shodo Digimon 2 set today!
Are you a fan of Digimon? Which Digimon partner is your favorite? Let us know in the comments down below.
Follow us @BluefinBrands on Facebook, Instagram, and Twitter for the latest announcements, news, and giveaways.