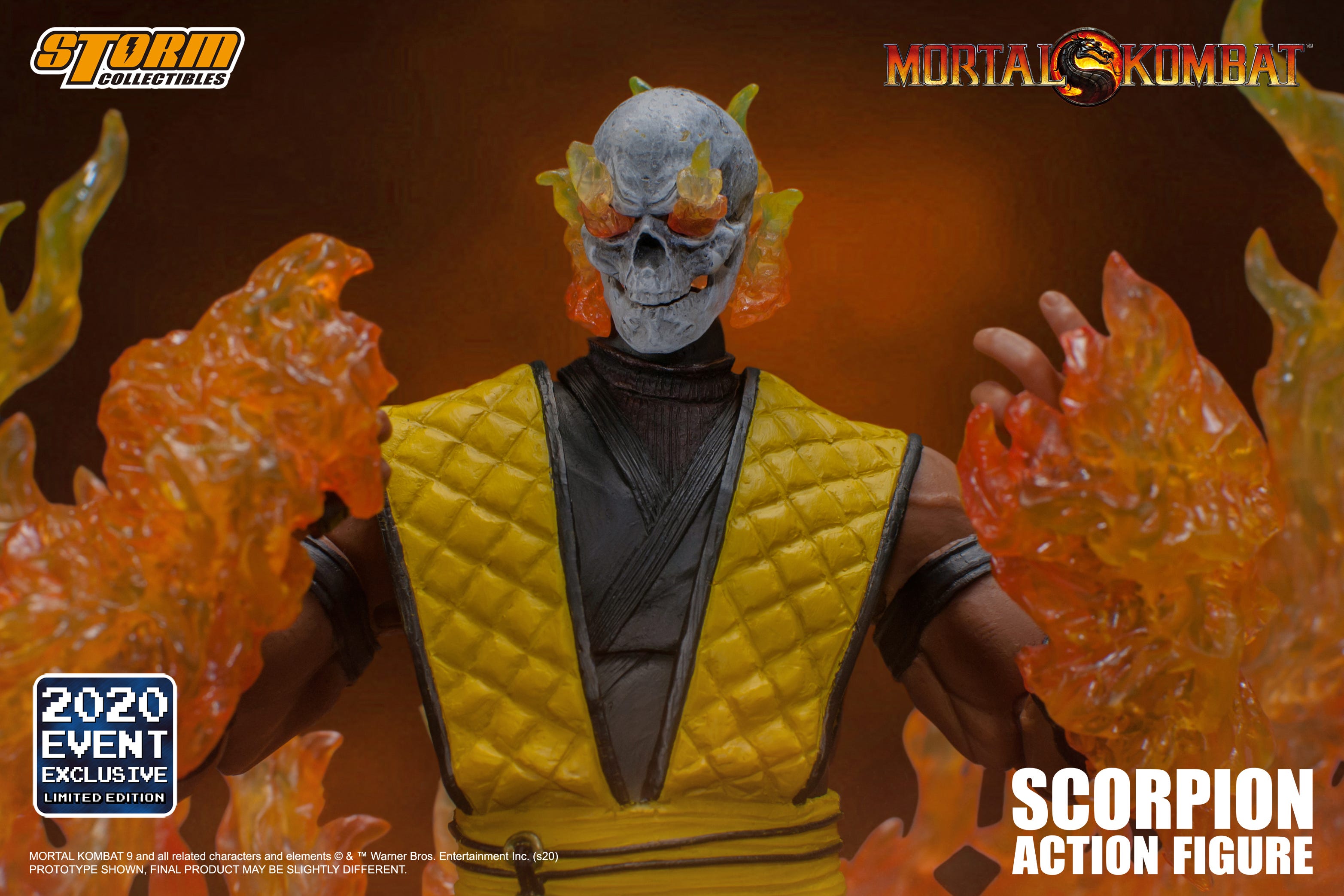 We're very excited to reveal not just one, but TWO event figures from Storm Collectibles. With events being put on hold during these difficult times, it makes us happy that we can still release exclusives and bring joy to people who love these characters. These amazing figures will be exclusively available during the week of SDCC@Home (7/22 - 7/26). You'll definitely want to enhance your Mortal Kombat displays with these guys...don't miss your chance when they become available for pre-order later this month.
"Get Over Here!" Scorpion *2020 Event Exclusive* is one of the two event reveals from Storm Collectibles. Scorpion Hanzo Hasashi was once a member of the Japanese Shirai Ryu ninja Clan. He was given the name scorpion for his deadly fighting skills. His life was blessed with glorious kombat in the name of his Grand Master. His signature move is his spear and hellfire.
This figure features an entirely new body with enhanced joints and articulation. It includes many new and familiar accessories such as swappable hands and his signature kunai, along with three different flame effects. If those accessories weren't enough, this exclusive includes his skull head, but on fire! Scorpion is a fan favorite, appearing regularly since Mortal Kombat Klassic, and now you can recreate epic fight scenes with this HOT figure.
Includes:
1 Interchanging Mask Head/Skull Head
4 Interchanging Hands
1 Chain
3 Flame Effects
Price: $75.00
Our second event exclusive Storm Collectible figure is Raiden *2020 Event Exclusive*. Raiden is the God of Thunder and Protector of Earthrealm. Ageless and wise beyond measure, he leads Earthrealm's mortals in the endless battle against the forces of darkness. When Shao Kahn, Emperor of Outworld, threatened to merge his realm with Earthrealm, an overwhelmed Raiden implored the Elder Gods to give Earthrealm a fighting chance. Thus, the Mortal Kombat tournament was created.
This exclusive features Raiden in his red Player 2 outfit. Included in this set are several interchangeable faces, along with swappable hands. It also includes several types of lightning effects to really show off why he is the God of Thunder.
This wouldn't be a Mortal Kombat figure if it did not include something bloody. Well, this figure includes Raiden's Fatality, which will make any display 100x better. With this highly articulated figure, and all the accessories he comes with, your collection is sure to be protected by Raiden.
Includes:
3 Interchanging Heads
6 Pairs of Hands (one pair of hands with lightning bolt)
1 Raiden's Fatality - Head Electrocution Effect
Lightning Bolt Effect
Price: $70.00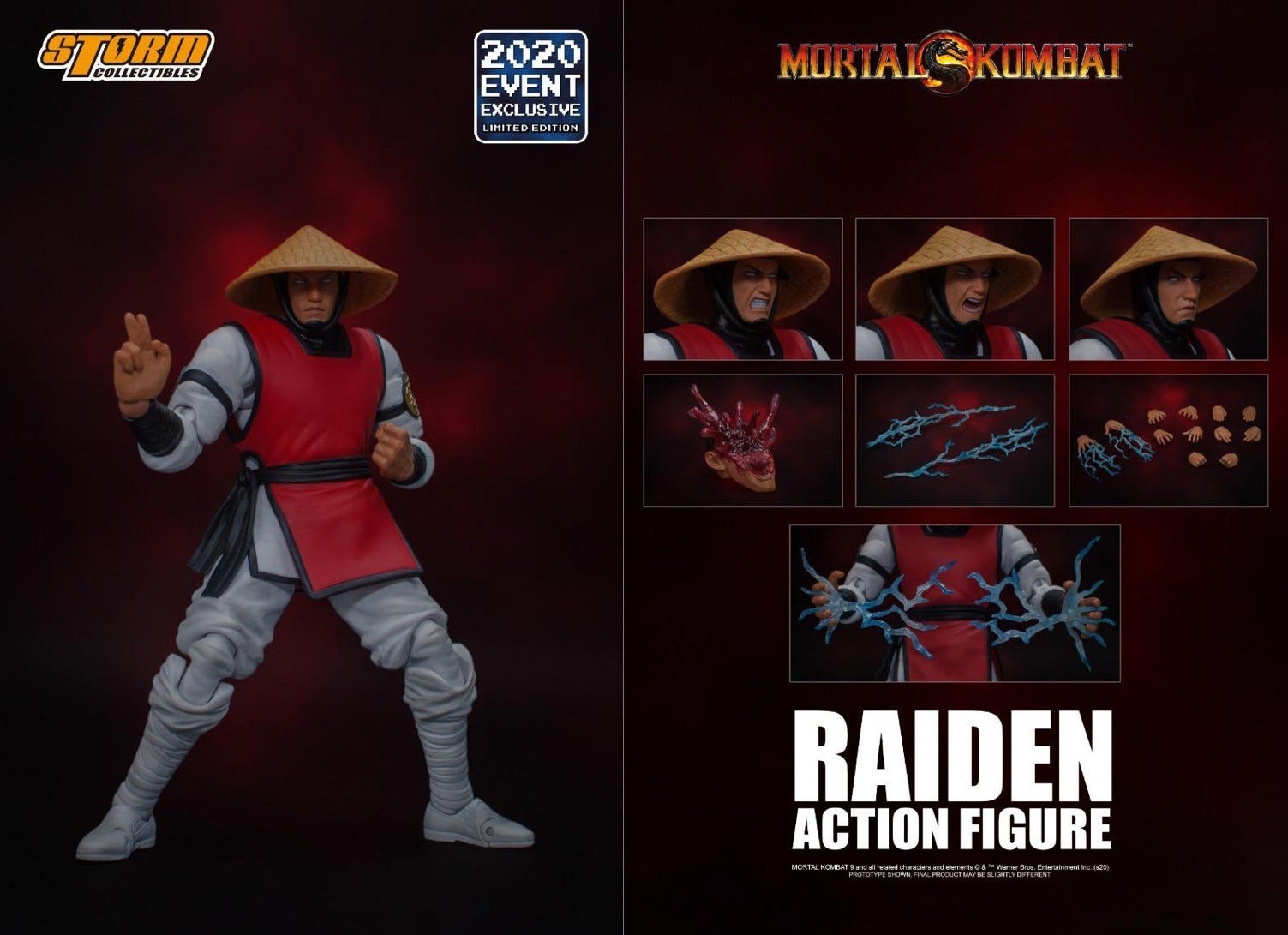 Both these event exclusive figures will be available for pre-order at BluefinBrands.com starting on 7/22 through 7/26 during SDCC@Home. Quantities are limited, so don't hesitate or you'll miss your chance.
Follow us @BluefinBrands and @StormCollectUS on Facebook, Instagram, and Twitter for the latest announcements, news, and giveaways.