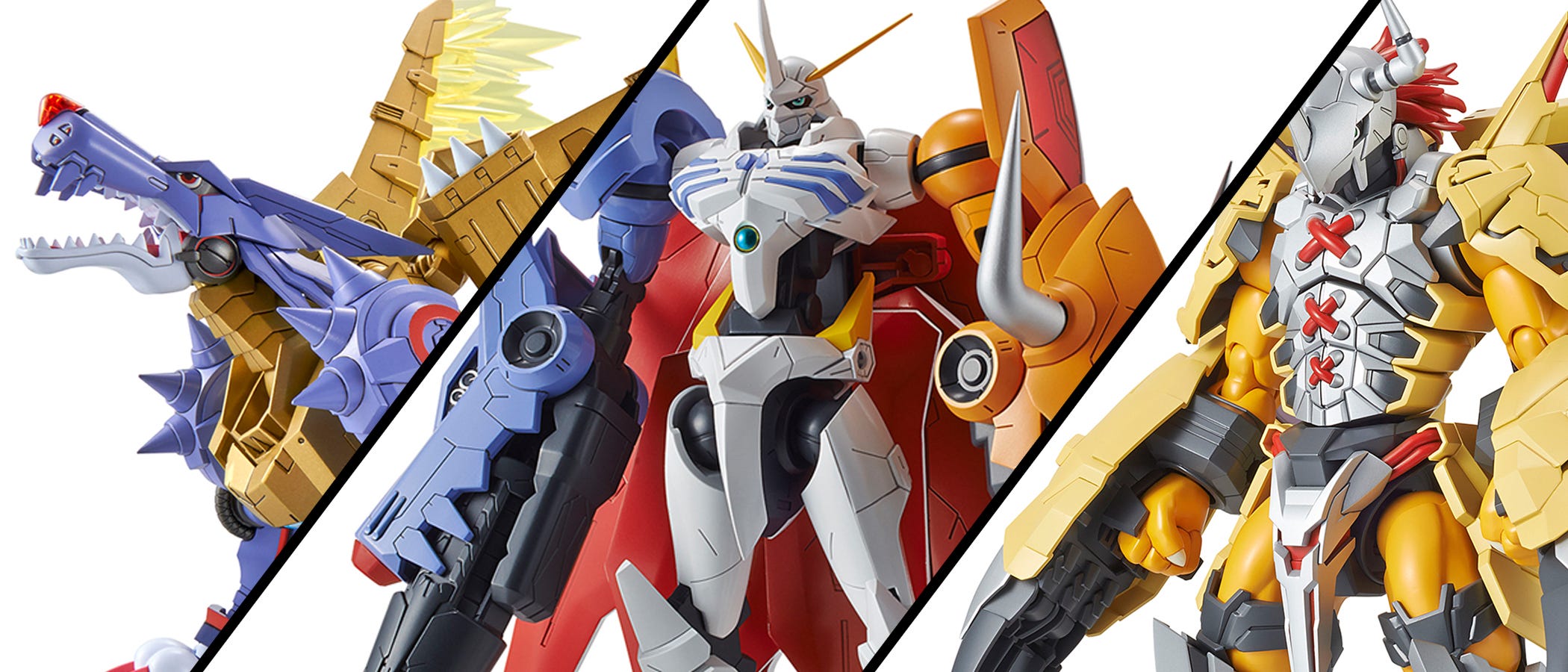 Figure-Rise Standard is a hobby kit line from Bandai that allows enthusiasts to create fully articulated characters after building them. Originally, the line featured characters from the Dragon Ball series, but as of lately has branched out towards other franchises such as Kamen Rider, Ultraman, and now Digimon.
In 2019 we got a taste of new Digimon Figure-Rise Standard kits with Amplified Omegamon and Amplified Wargreymon as the very first two. These "Amplified" versions were styled slightly different from their original anime/game design while creating something new and memorable for builders and fans alike.
In 2020 the third Digimon Figure-Rise Standard hobby kit, Amplified Metalgarurumon, was released. Similar to Omegamon and Wargreymon, this model would feature Metalgarurumon with an edgier style from its original design. It even includes an awesome effect for its wings, which can also be removed and placed in its mouth as a sword.
With Metalgarurumon, Omegamon, and Wargreymon at the forefront of the Digimon Figure-Rise Standard roster, who would be next for the series? That question was quickly answered with the release of Black Wargreymon. Considered the opposite to Wargreymon, this kit features him in a black, silver, and gold color palette and includes two slash effect parts that make the kit worth purchasing even if you've already built the original Wargreymon. Both versions look incredible and having both posed fighting each other in a display just adds another level of wow factor to your collection.
In late 2020 it was revealed that the next Digimon for the growing line would be non-other than Imperialdramon from Digimon Adventure 02. This new Figure-Rise Standard kit would feature an amazing new gimmick that would allow you to swap parts and switch Imperialdramon from Dragon Mode to Fighter Mode. Which mode would you display it in? Imperialdramon is scheduled to release early 2021.
The next digital monster in the FRS lineup releases just a couple months after Imperialdramon, and it is the gigantic cyborg Digimon Mugendramon (AKA Machinedramon for fans who watched the English adaptation). This is the largest kit released in the series with a length of 250mm (9.8 inches). Do not think for one second that this beefy kit is not able to articulate as well as the other FRS Digimon kits, because with just the pull of some joints, the range of motion expands and you're free to pose it however you'd like. We cannot wait to get our hands on this kit and build it.
Recently, two new Digimon FRS were announced and they are The Royal Knight Dukemon (Gallantmon) from season 3 Digimon Tamers and Metalgarurumon (Black Ver.). Similar to previous Digimon FRS kits, these are an amplified version and features slight cosmetic changes that make them stand out more than their original anime/video game design. Dukemon does include his holy lance and shield, while Metalgarurumon has a color palette swap similar to that of Blackwargreymon. Now you can have Wargreymon and Metalgarurumon and their alternate colors side-by-side or in an epic battle in your display.
We are thrilled with all the amazing Digimon kits that have been released and even more excited for future Digimon Figure-Rise Standard kit announcements. What character could be next!?
Have you built any of the Digimon Figure-Rise Standard kits? If so, which one? Let us know in the comment section down below.
Follow us @Bluefinbrands and @BandaiHobbyUS on Facebook, Instagram, and Twitter for news, announcements, and giveaways.