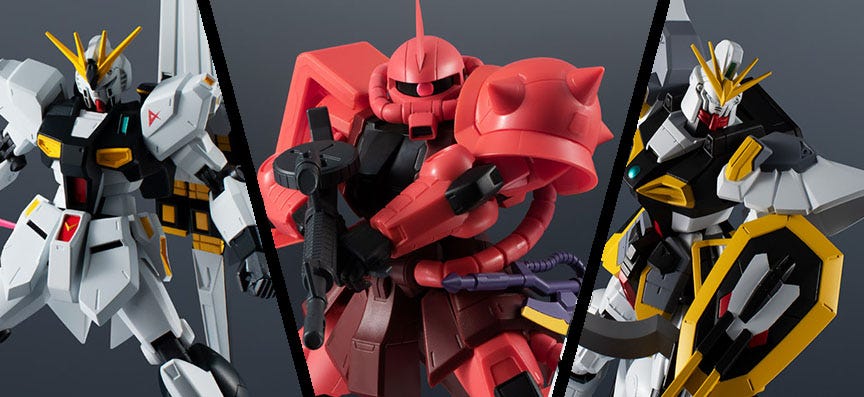 In 2019 Tamashii Nations released the Gundam Universe line, in which it features 6-inch figures of popular and fan favorite Mobile Suits. Each with amazing articulation and a handful of accessories to go along with the figure. Wave 1 gave us the RX-78-2 Gundam, RX-0 Unicorn Gundam, and XXXG-01W Wing Gundam. Wave 2 featured XXXG-01D Gundam Deathscythe, RX-0 Unicorn Gundam 02 Banshee, and ASW-G-08 Gundam Barbatos.
In 2020 wave 3 was announced and would bring Strike Gundam, Gundam Ez8, and Wing Gundam Zero (EW) to the Gundam Universe lineup. Later in the year, wave 4 added 0Z-00MS Tallgeese and GF13-017NJII Burning Gundam to Gundam Universe. This year wave 5 brings us three new mobile suits and they are:
Piloted by Amuro Ray in "Mobile Suit Gundam: Char's Counterattack," the distinctive v (Nu) Gundam joins the Gundam Universe series. The unique Fin-Funnel system is detachable and constructed from individual funnel units that can be displayed on their own.
Along with the Fin-Funnels, you also get an optional pair of hands, beam saber, and a Tamashii stage joint to use with Tamashii stage act. Maybe one wave will feature Sazabi and we will be able to re-create action scenes with them; we can only dream. Tamashii Nations Stage Act Not Included
XXXG-01SR Gundam Sandrock
Next up, joining the Gundam Universe lineup, is Gundam Sandrock, from Mobile Suit Gundam Wing. Now you can add Gundam Sandrock to your collection with other Gundam Universe Gundam Wing characters (sold separately). Gundam Sandrock includes a large shield and two heat shotel for dynamic attack poses. The figure also includes optional pair of hands and a Tamashii stage joint as well.
Last on the list of wave 5, but certainly a mobile suit we're very excited to see appear in the Gundam Universe line, is non-other than Char's Zaku II! With full articulation capable of creating action poses, one amazing new feature for Char's Zaku II is that the mono eye can be adjusted, making scenes even more epic!
With plenty of accessories such as the heat hawk and Zaku machinegun, this figure is sure to brighten your Gundam Universe collection and expand your play possibilities alongside the Gundam Universe RX-78-2 Gundam (sold separetly).
There you have it! The three new mobile suits coming to Gundam Universe wave 5. We're excited to get our hands on the Nu Gundam and tinker with the Fin-Funnels', while also checking out Char's Zaku II for that mono eye feature. All three figures are approximately 6-inches tall and made with ABS and PVC plastic. Gundam Universe wave 5 is scheduled to release June 2021 with an MSRP of $25.00.
Which of the three mobile suits are you excited to see come to the Gundam Universe lineup? Let us know in the comment section down below.
Follow @Bluefinbrands on Facebook, Instagram, and Twitter for the latest announcements, news, and giveaways.