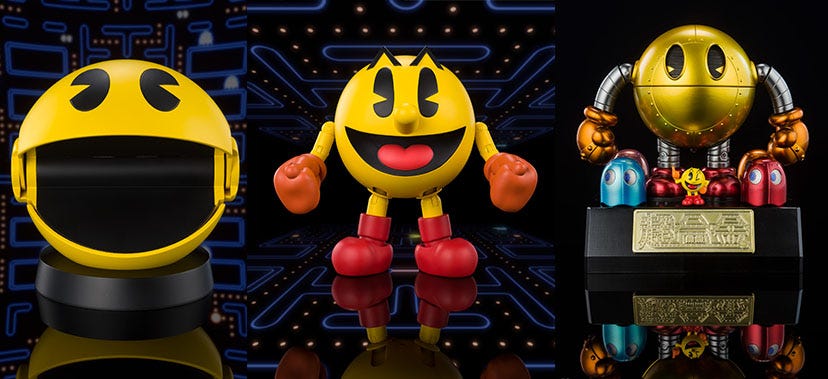 Pac-Man is an iconic video game character in which you, the player, would control his character around attempting to eat dots and fruits for a high-score, while avoiding the four ghosts. Developed in 1980 by Namco, Pac-Man gained commercial success worldwide making him the icon he is today. In 2020, Pac-Man celebrated his 40th Anniversary, with Bandai announcing new products releasing in 2021. Let us take a closer look at them:
Tamashii Nations S.H.Figuarts has a vast pool of characters ranging from anime titles such as Dragon Ball to Marvel superheroes like Spider-man and Captain America. Now our favorite yellow arcade mascot has joined the S.H.Figuarts lineup.
S.H.Figuarts Pac-Man if fully articulated with a wide range of motion and includes several hands to swap, along with a different faceplate, allowing you to display him in your collection as you like. Not only do we get an amazing palm-size figure of Pac-Man, and interchangeable parts, but included with the figure is a cherry and Blinky accessory in an 8-bit style. Pac-Man is about 4.13" tall and is expected to release around June 2021.
Proplica Waka Waka Pac-Man
Jumping straight out of the game itself is Proplica's Waka Waka Pac-Man!
You can roll Pac-Man around which opens and closes his mouth in conjunction with the rollers on the bottom of the product.
Iconic sounds can be heard as you roll him around, from pellet munching and ghost chasing, to intermission scene music.
A stand is included with this collectible, allowing you to display him properly without him rolling off.
He stands at about 3.14" tall and is releasing around July 2021.
Last on the list of Pac-Man products announced is Chogokin Pac-Man. This collectible has Pac-Man docked in a superalloy robot of himself! Made with die-cast, this collectible not only gives that durable heavy-weight feel but packs a punch with all the loaded goodies featured with it.
Speaking of punches, Chogokin Pac-Man is able to launch its fists, and if that wasn't enough, you can replace his hands for the ghosts included with this product. Included with this are 4 ghosts (Inky, Blinky, Pinky, and Clyde), a Pac-Man minifigure, and a dedicated pedestal to display him on. Chogokin Pac-Man can also change its eyes to 2 different modes thanks to the dial found on the back and can transform itself to vehicle mode to clear through any obstacle! Chogokin Pac-Man stands at about 4.13" tall and is expected to arrive around September 2021.
Those are the three amazing Pac-Man products by Tamashii releasing in 2021. We are very excited for them and can't wait to experience all the fun they have to offer.
Which Pac-Man item are you looking forward to the most? Leave a comment down below.
Follow us @Bluefinbrands on Facebook, Instagram, and Twitter for the latest announcements, news, and giveaways.