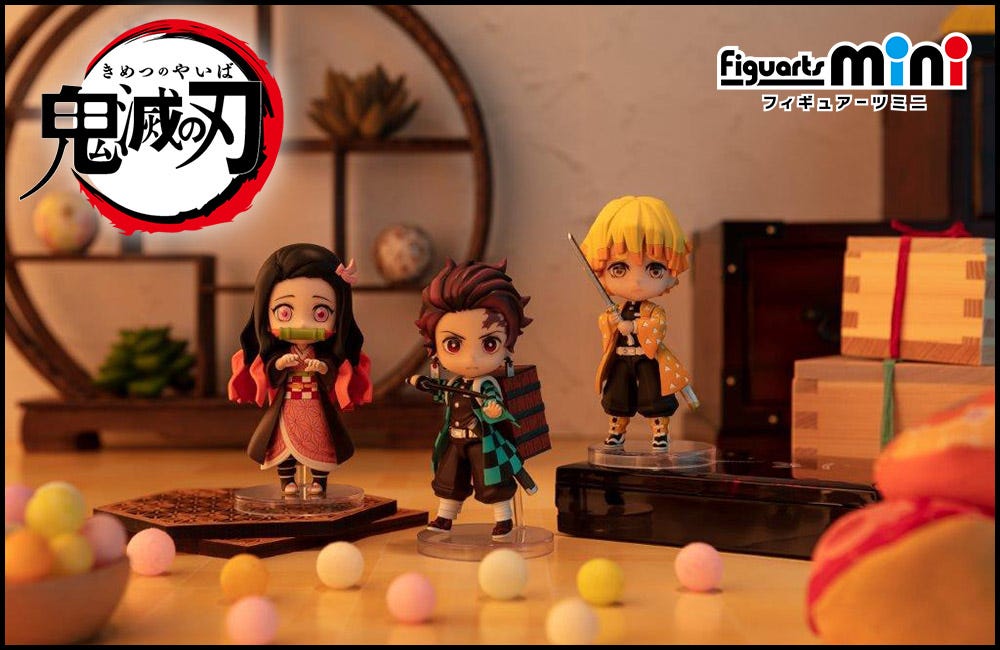 Figuarts Mini is a brand-new line by Tamashii Nations. Figuarts Mini brings to life your favorite characters into a charming miniature figure. Starting late 2019 with Kylie from "The Kotobuki Squadron in The Wilderness," followed by the Sailor Scouts, there are now over 15 characters to choose from; with many more releasing next year. We are going to share with you our top 5 picks for Figuarts Mini and they are:
#5 Kylie & Hayabusa (Kylie ver.)
At #5 is the Figuarts Mini that started it all, but specifically the version that includes her aircraft Hayabusa. We're big fans of having accessories included and having a plane that can fit Kylie inside easily makes this our #5 favorite. Kotobuki Squadron is not a series we're too familiar with, but Tamashii Nations does a wonderful job making the characters cute with their "Glittering EYE technology," and "chibi-like" features. She even comes with her aviator hat and goggles!
Coming up at #4 is Mash from the Fate series. The sculpt on this mini is amazing; from the hair to the armor, it stands out as a Figuarts Mini. Even the paint applied to the armor is fantastic with that metallic look. Just like we mentioned previously, we are fans of accessories, and this Figuarts Mini of Mash includes her shield, which looks stunning. It was a difficult decision considering the other 2 available characters from Fate are also amazing, but the sculpt of the armor sealed the deal for us.
Our #3 pick is the magical girl Madoka. Not only is this Figuarts Mini adorable, but the sculpt and eyes show off just how cute this line can be. From the bows on her pigtails, to the vibrant paint used, this Figuarts Mini is a brilliant example of what the series has to offer and a must have for fans of the series. Just like our previous picks, this Mini also comes with an accessory, and that is her rose bow and arrow.
We are getting closer to our number 1, but before that let us take a look at our #2 favorite Figuarts Mini, which is Zenitsu from Demon Slayer.
One of the points Tamashii focuses on with the Figuarts Mini line is their glittering eye technology and this mini shows just how important the eyes are with these figures. With his eyebrows angling upward and his mouth slightly open, you can sense the fear Zenitsu has in his expression, and that is 100% his character. Many of our other picks have a neutral or smiling expression, but this is the only one which shows a scared look, which makes Zenitsu our #2 favorite Figuarts Mini.
Selecting our #1 favorite Figuarts Mini was difficult. There are so many amazing choices that we just spun a roulette and whatever it landed on was our #1 (kidding). That might as well be how we decided, because each Figuarts Mini is special in their own way. Our #1 pick for Figuarts Mini is Tanjiro Kamado, the protagonist of the anime Demon Slayer. Both our #1 and #2 picks come from the same series, and it is clear to see why they are our top favorites.
We mentioned that Zenitsu's face showed how scared of a character he can be, while Tanjiro has quite the opposite expression; his determined look shows that Figuarts Mini can be both cute and serious at the same time. Not only that, but his hair is well-sculpted and has a gradient tone added to it, as opposed to other Figuarts Mini with just 1 color for their hair. Both Tanjiro and Zenitsu include a sword wielding hand, but if you own Tanjiro's sister, Nezuko, she includes the carrying box accessory that she is known to hide in, which Tanjiro can wear, making his Mini even more adorable. With his determined look, amazing sculpt and color, Tanjiro is our #1 favorite Figuarts Mini.
With new Figuarts Mini releasing next year, along with the ones showcased at Tamation Nation 2020, we will have to re-evaluate what our top #5 picks are again at a later date. In the meantime, this is our top 5 picks. Do you agree with our list or do you have your own list of favorites? Let us know in the comments below.
Our M.A.D.E sale is happening right now! Check out all the amazing deals on your favorite anime.
Follow us @Bluefinbrands on Facebook, Instagram, and Twitter for the latest announcements, news, and giveaways.