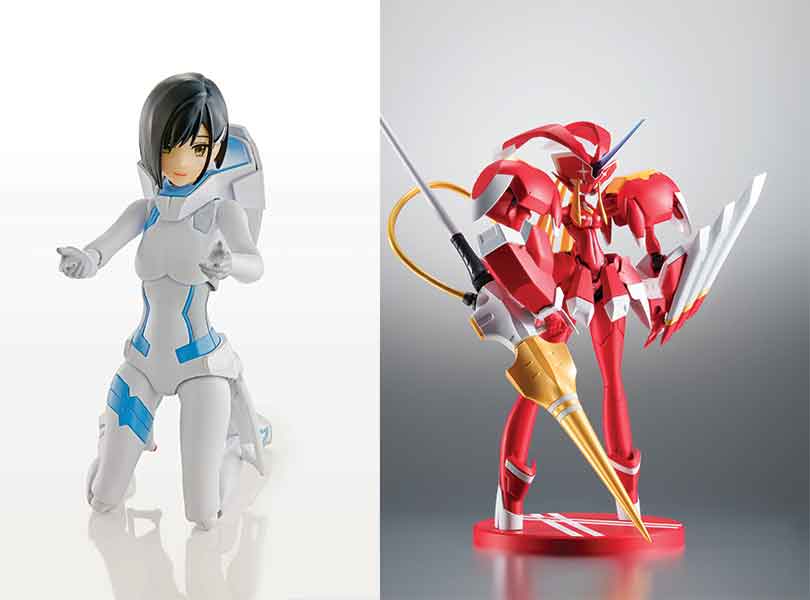 Ichigo and Strelitzia XX join the Bandai Tamashii Nations lineup for 2019!
Ichigo joins the S.H.Figuarts series with accurate sculpting and incredible posability! Optional expression parts expand your play possibilities, plus a bonus smirking face for Zero Two!
The set includes opening waist armor and an optional hood for capturing in-cockpit poses. It also includes a stand that fits in with other SIDE FRANXX figures, three optional facial expressions, one optional Zero Two expression, three pairs of optional hands, an optional hood, a support arm and clip, and a cockpit stand.
The fiery red powered up version of the Strelitzia as seen in the climactic episode 15, "Jian: The Bird That Shares Wings," where Zero Two and Hero finally learn to trust one another.
Set includes two expression parts, one left and two right optional hands, Queen Pike, shield, stand, and Tamashii stage connector joint.
Darling in the Franxx takes place in a dystopian, post-apocalyptic future where the remnants of human civilization have abandoned the surface. Adults and children exist in contrasting environments from each other. Adults live in technologically-advanced cities within Plantations and are immortal, but procreation and relationships among them have become obsolete and undesirable. Artificially-created children, termed "parasites", are deprived of individuality and are educated only for piloting Franxx in pairs to defend humanity. Parasites are kept in isolation from adult society in environments nicknamed "birdcages", which emulate that of a bygone era, so that they can develop the emotional responses required to pilot a Franxx.
Strelitzia XX:
MSRP: $55
Ichigo:
MSRP: $62
Release Date for both: May 2019