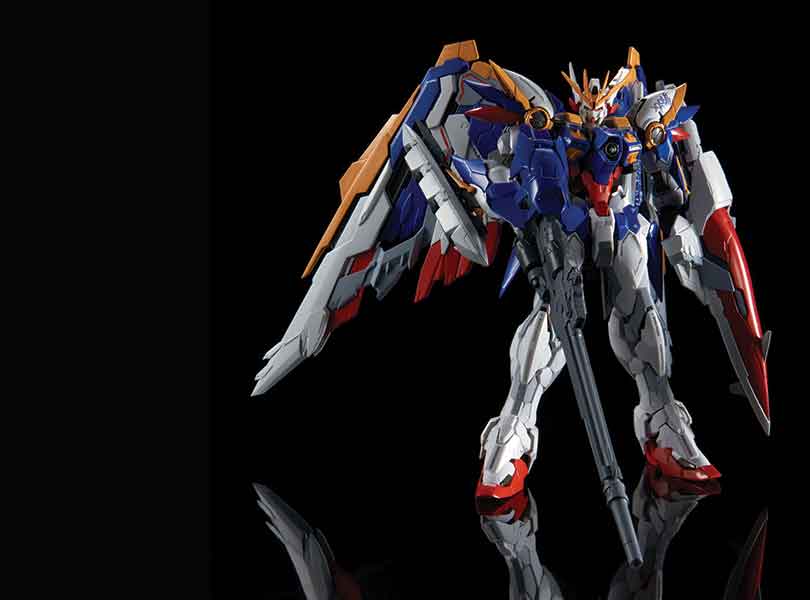 A Bandai Hobby Online Shop exclusive release of the Wing Gundam from "Gundam Wing" in its EW appearance. New opening gimmicks have been incorporated into the design of the wings while still allowing it to be able to transform into Bird Mode.
The Hi-Resolution model series comes with a combination plastic and diecast pre-built frame that offers extraordinary detailing and posing capabilities. Armor is made of high-quality plastic materials that has no need for paint or alteration and features different finishes ranging from high gloss to pearl to metallic.
Set includes Buster rifle with removable energy cartridges, energy cartridge racks, beam sabers, and shield. Gundam frame x1. Runner x15. Water decal, Instruction manual x1.
The Wing Gundam EW is Hajime Katoki's redesign of Wing, created following the release of the Gundam Wing sequel OVA/movie Endless Waltz; which has been prominently featured in the Glory of the Losers manga re-telling of the series (among other works). The redesigned Wing retains largely the same armament and abilities but resembles the Wing Zero in appearance even more than before and can be equipped with extra energy cartridges to enable its buster rifle to fire nine shots per use instead of three.
MSRP: $148.00
Release Date: February 2019