An Incredible Spectacle Featuring an Immersive Fan Experience, Filled with Franchise Showcases, Exclusive Collectibles, Photo Ops, and Free Swag Awaits Fans in San Diego, CA! Attendees Will Also Have the Opportunity to Watch a Special World Premiere Screening of Sand Land!
Irvine, Calif. – July 10, 2023. Bandai Namco Toys & Collectibles America ("BNTCA") is set to make a big splash this July when it presents a series of incredible booths and activations at San Diego Comic-Con. At this year's convention, BNTCA will offer an immersive experience that features a collection of its top licensed properties including Dragon Ball and Gundam. Crank that hype meter to 11 with special exhibits, displays, statues and life-sized photo ops, free swag, and event exclusives. BNTCA's showcase will include popular product brands such as TAMASHII NATIONS, Bandai Hobby and Tamagotchi. In addition, the Marina Terrace at the Marriott Marquis San Diego will house an expansive outdoor Dragon Ball Experience. Attendees are invited to visit any and all of BNTCA's booths and activations daily during regular show hours throughout San Diego Comic-Con.
Dragon Ball presents the ultimate experience for fans to enjoy at San Diego Comic-Con!
Dragon Ball Special Booth | Marriott Marquis San Diego Marina Terrace
(Open to the Public; No Badge Required)
Enter the Dragon Ball universe at this interactive outdoor experience featuring fan-favorite Bandai Namco brands including Tamashii Nations, Bandai Hobby, Bandai Shokugan, Bandai Namco Entertainment, Banpresto, Ichibansho, GASHAPON and more.
Special Photo Ops
Gorgeous Product Displays and Dioramas
Numerous Interactive Games
For more information including product images and renderings, visit the official Dragon Ball website at https://en.dragon-ball-official.com/special/sdcc2023/
Shueisha, Toho, Bandai Filmworks and BNTCA Present the World Premiere Screening of Sand Land
Screening and Panel - From the creator of Dragon Ball, Akira Toriyama, comes his latest animated movie, "Sand Land", debuting its world premiere screening at San Diego Comic-Con! Shueisha (Publisher from Japan), Bandai Namco Filmworks (Animation company from Japan) and Toho (Film company from Japan) will also welcome Toshihisa Yokoshima (Director of Sand Land) to discuss behind-the-scenes footage. Room 6BCF @ 8:15pm-11:00pm.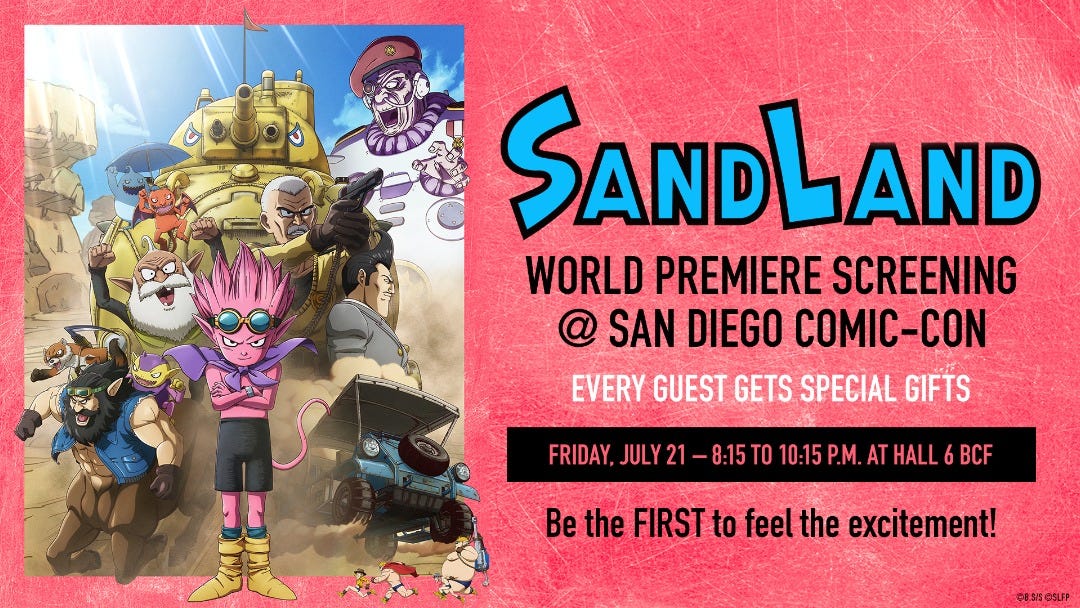 SAND LAND | Booth #3729
Attendees can immerse themselves in the exciting one of a kind experience in the world of Sand Land!
Photo Op – Beelzebub and Tank
Interactive Video Game Demo
Product Displays
BANDAI SPIRITS | TAMASHII NATIONS Booth #3329
From Tamashii Nations
Dragon Ball Event Exclusives

SUPER SAIYAN SON GOKU & SUPER SAIYAN 2 SON GOHAN – Exclusive Edition
RADITZ & SON GOHAN -KID- -Exclusive Edition
MAJIN VEGETA -Exclusive Edition
[EXTRA BATTLE] SUPER SAIYAN GOGETA -Fusion Reborn- -Exclusive Edition
For more information, visit https://tamashiiweb.com/en/event/sdcc2023/
Tamagotchi | Booth #3345
The Tamagotchi booth is back in 2023 with an all-new design that celebrates the Tamagotchi World Tour! The booth will offer a chance to purchase an exciting line-up of event-exclusive items, new products for sale, and lanyards to purchase! Plus, get a free exclusive Tamagotchi World Tour bag with eligible purchases (while supplies last).
Event Exclusives: Choose between three different event exclusives to commemorate your time at SDCC 2023! Our beloved Original Tamagotchi, the original virtual reality pet launched in 1997, is available in two exclusive space-themed shells. Fans also have a chance to purchase the new Star Wars™ Grogu Limited Edition Tamagotchi which comes with a unique Mandalorian armor design with a brushed silver shell. The sophisticated matte black and metallic silver detail packaging doubles as a specialty commemorative display case, perfect for showing off this unique collectible.
Convention Exclusive Original Tamagotchi: Mametchi Spaceship
Convention Exclusive Original Tamagotchi: Mimitchi Planet
Star Wars™ Grogu Limited Edition Tamagotchi

Gameplay has the same programming as the Star Wars Grogu Tamagotchi
Booth Experience: The booth will offer fans the opportunity to step inside the Tamagotchi universe and take their photos in the Tamagotchi photobooth. Fans are encouraged to submit their photo on their social platforms for a chance to win Tamagotchi prizes!
About Bandai Namco Toys & Collectibles America Inc.
Bandai Namco Toys & Collectibles America Inc. is a leader in developing engaging, quality toys that capture children's and collector's imaginative spirit and provide endless "Fun For All into the Future." Bandai Namco Toys & Collectibles America is the manufacturer and master toy licensee of some of the most popular brands in collectibles, children's toys and entertainment today, including Gundam, Tamagotchi®, Dragon Ball®, Vital Hero, Anime Heroes®, Tamashii Nations®, Bandai Hobby and MegaHouse. BNTCA is proud to be the official distributor in the US for Mr. Hobby, nanoblock® and official Studio Ghibli merchandise. For more information, visit bandai.com.
STAR WARS and related properties are trademarks and/or copyrights, in the United States and other countries, of Lucasfilm Ltd. and/or its affiliates. All other trademarks and trade names are properties of their respective owners.
All other trademarks are the property of their respective owners.
Follow us on Facebook, Instagram, and Twitter to stay up to date on all things Bandai from new release info to events!