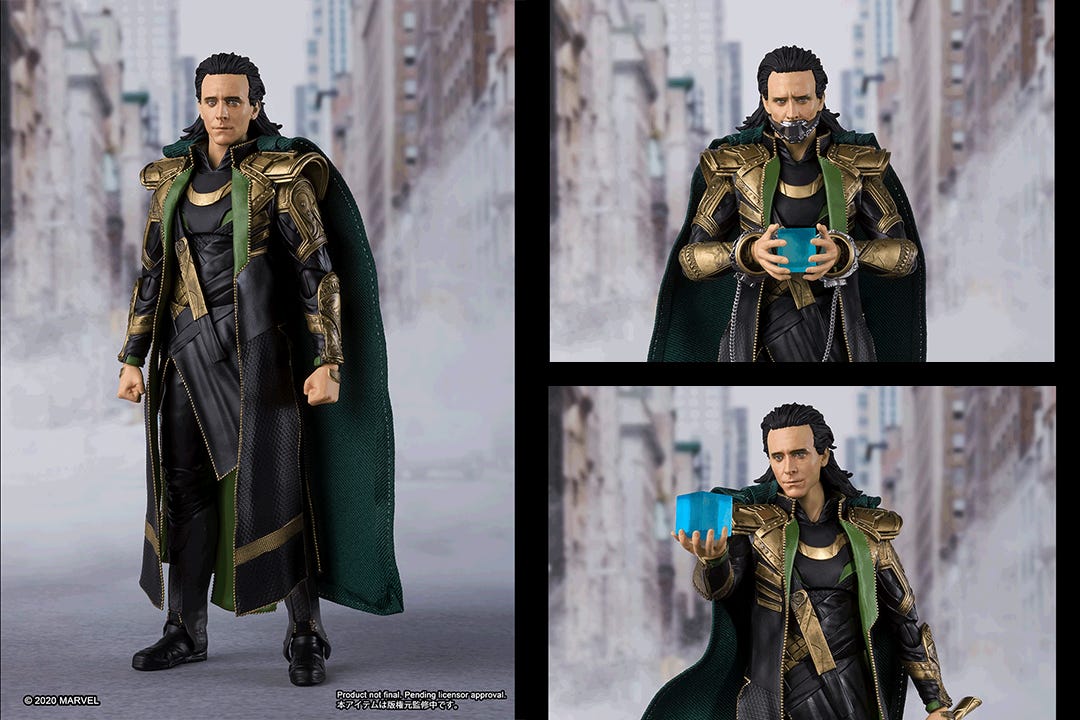 Earlier this week, Tamashii Nations announced S.H. Figuarts Loki will be available this fall. This figure is based on his armored look seen in the 2012 feature film, The Avengers. Of course, this film made cinematic history by bringing all our favorite Marvel heroes together for the first time. Many fans still consider Loki as Marvel's best villain and you won't get any argument from us.
The figure comes packed with accessories true to form with S.H. Figuarts. In addition to the handcuffs and mouth restraint that replicate the scene where he was captured, a variety of optional parts are included, such as his staff (extended/stored), the Tesseract, and an optional mischievous smirk face part.
This set includes the figure, three pairs of optional hands, smirking face part, Helmet, Tesseract, staff (extended), staff (stored), handcuff parts, mouth restraint face parts.
Loki is just one of those bad guys you can't help to root for and whenever he tumbles you hope he gets back up. We all struggle in life and perhaps that's what makes his character so relatable for audiences around the world. Sure, it's probably safe to say most of us haven't tried to overthrow our father/king, but perhaps we've felt a pinch of jealousy, neglect or rage towards a sibling. Kudos for getting over it and not trying to kill anyone like our buddy Loki.
We have quite an interesting lineup of SHF figures coming your way later this year including «Final Battle» Editions of Captain America, Iron Man MK-85 and Iron Spider-Man. Which other Marvel S.H. Figuarts would you like to see next? Let us know in the comments below! There are no wrong answers and we look forward to bringing you more of your favorites.