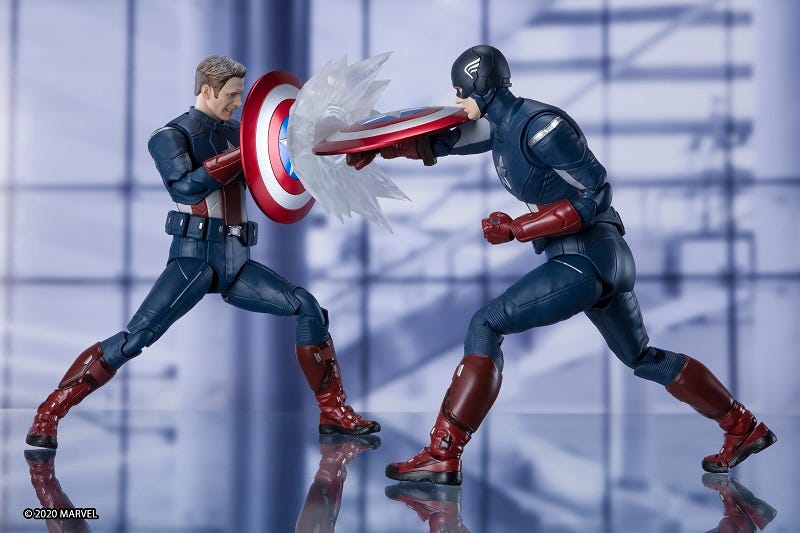 This Fall Tamashii Nations is bringing one of the many epic battles from Avengers: Endgame to the S.H. Figuarts lineup with the Captain America - <<CAP VS. CAP>> EDITION-! Collectors can recreate the intense battle between past and present versions of Steve Rogers going after Loki's staff (sold separately).
As with all SHF figures, the first Avenger comes packed with accessories including two optional heads (masked and unmasked), two facial expressions, throwing shield effect, shield with strap, locket and multiple hand options. It's worth noting only one "S.H.Figuarts Captain America - EDITION - (Avengers: Endgame)" is included in this set. As mentioned earlier, the staff is included with "S.H.Figuarts Loki (Avengers)."
Of course, the only thing better than Captain America is having two Captain Americas fighting it out. Neither one of these two know the meaning of backing down from a fight or would dare use the word quit. Steve Rogers is a beacon of hope and truly inspires us to be our best selves.
Last week Tamashii Nations announced the S.H. Figuarts Loki from the 2012 summer blockbuster, The Avengers. The figure comes packed with accessories true to form with S.H. Figuarts. In addition to the handcuffs and mouth restraint that replicate the scene where he was captured, a variety of optional parts are included, such as his staff (extended/stored), the Tesseract, and an optional mischievous smirk face part.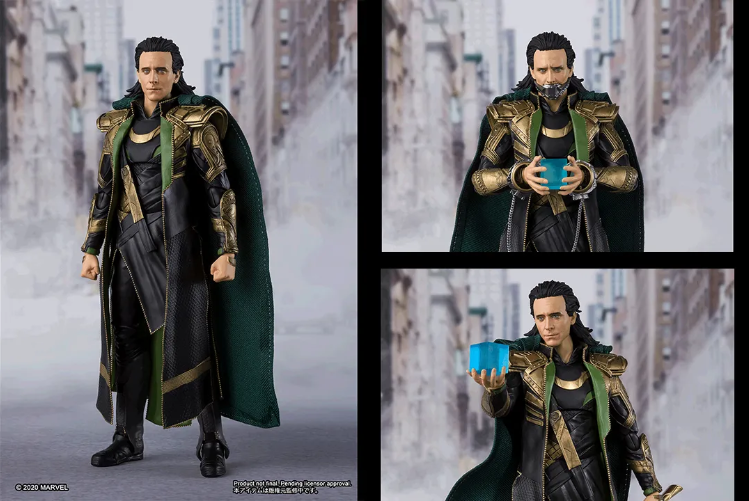 This year is already shaping up to have quite an interesting lineup of SHF figures coming your way including <<Final Battle>> Editions of Captain America, Iron Man MK-85 and Iron Spider-Man. With so many other SHF figures already made like Thor, Hulk, Black Widow, Black Panther, Ant-Man and the Wasp, which other Marvel S.H. Figuarts would you like to see next? Let us know in the comments below!
Follow us @BluefinBrands on Facebook, Instagram and Twitter for announcements, news and giveaways.