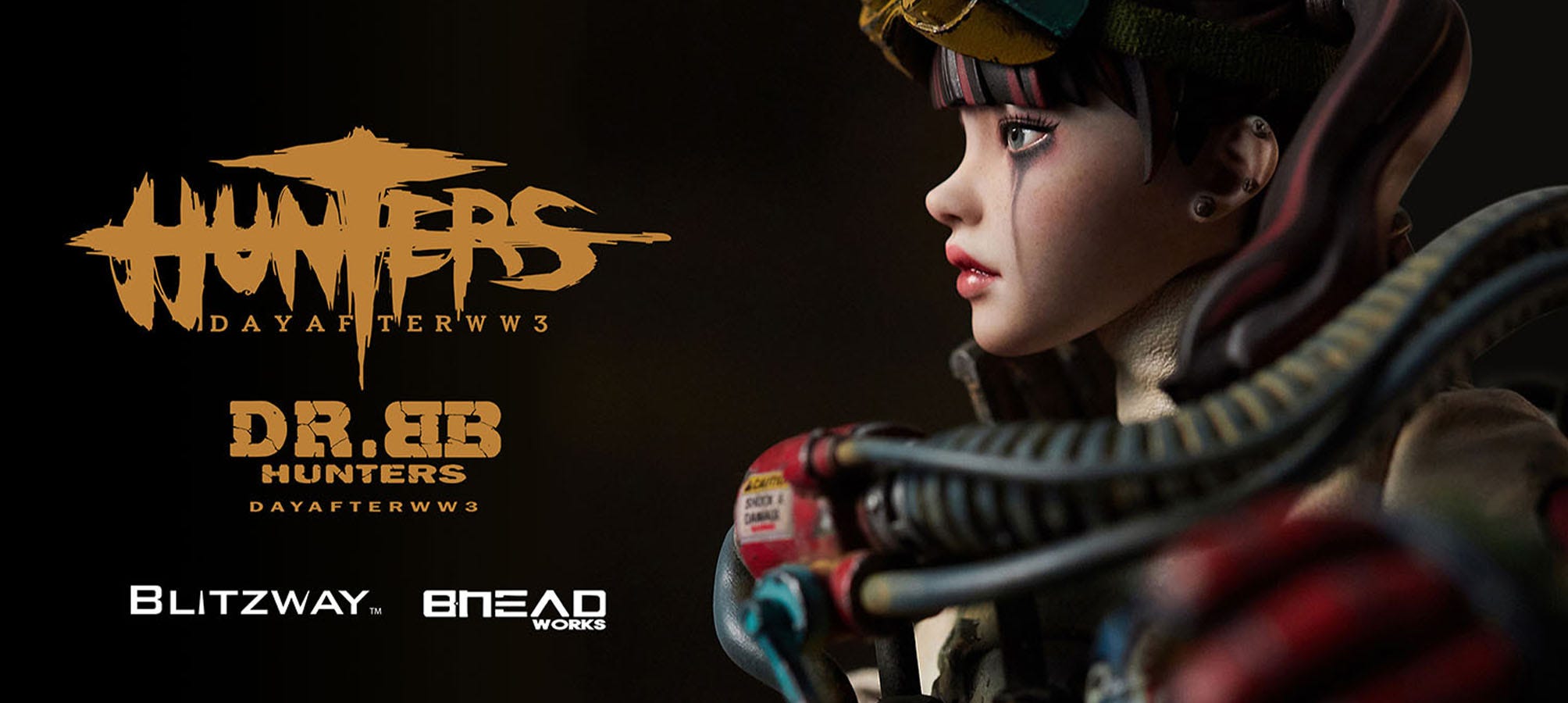 Where to begin... HUNTERS: Day After WWlll is an original product line from Blitzway, designed by BHEADworks. The series kicked things off with the inaugural figure known only as "The Boy." We learned that the Boy is the leader of the "Hunters" and is a master at sniping, and dreams about a utopia; keep dreaming, buddy. It was this figure that truly set the tone for what's to come in regards to incredible detail, a plethora of accessories and a true standout in any collection.
In the event of a nuclear fallout none will be as prepared to walk the earth as Dr. BB. She stands here in her highly fashionable jumpsuit prepared for the worst. This figure also comes with interchangeable overalls, arm and leg bandages, gloves, and boots. We'll get into her accessories a little bit later and believe us when we say she comes with quite an assortment of goodies. Last week we got our hands on this beautiful piece of artwork and we can't seem to stop talking about it.
This 1/6 scale figure stands at an impressive 15 inches tall with its included POLYSTONE base and features over 20 points of articulation. So clear off your coffee table or make some room on your shelves, because you're going to need all the space you can muster to account for Dr. BB's wardrobe, weapons, packs, and companion android. Check out the complete list of included accessories below.
Blitzway went all in for Dr. BB with over 20 accessories to get her through the toughest of days whilst traversing in a gruesome post-apocalyptic world. She comes equipped with multiple types of headgear, a bomb box, axe, knife, flame thrower and more!
Costume
1x Protective jumpsuit
1x Denim overall
1x Arm bandage
1x Leg bandage
1x Pair of protective gloved hands
1x Pair of protective boots
Accessories
1x BiBi : Android robot
1x Luxurious and weighty POLYSTONE diorama base.
1x Set of full face headgear
1x Set of oxygen circulation system gear
1x Bigbomb : ax weapon
1x Black auxiliary bag
1x Set of khaki auxiliary bags
1x Set of bomb and bomb box
1x Pair of yellow protective goggles
1x Yellow dust mask
1x Water bottle
1x Stone hammer
1x Knife
1x Flame thrower
1x Pair of normal tied-hair parts
1x Pair of slim tied-hair parts for headgear
Dr. BB retails for $300.00 and if you can get your hands on this beautiful figure, we highly recommend you do so. This figure is easily one of the highlights of 2021 and the year just started.
For more info on Blitzway and other amazing collectibles, be sure to follow @bluefinbrands on Facebook, Instagram, and Twitter. Thank you so much.