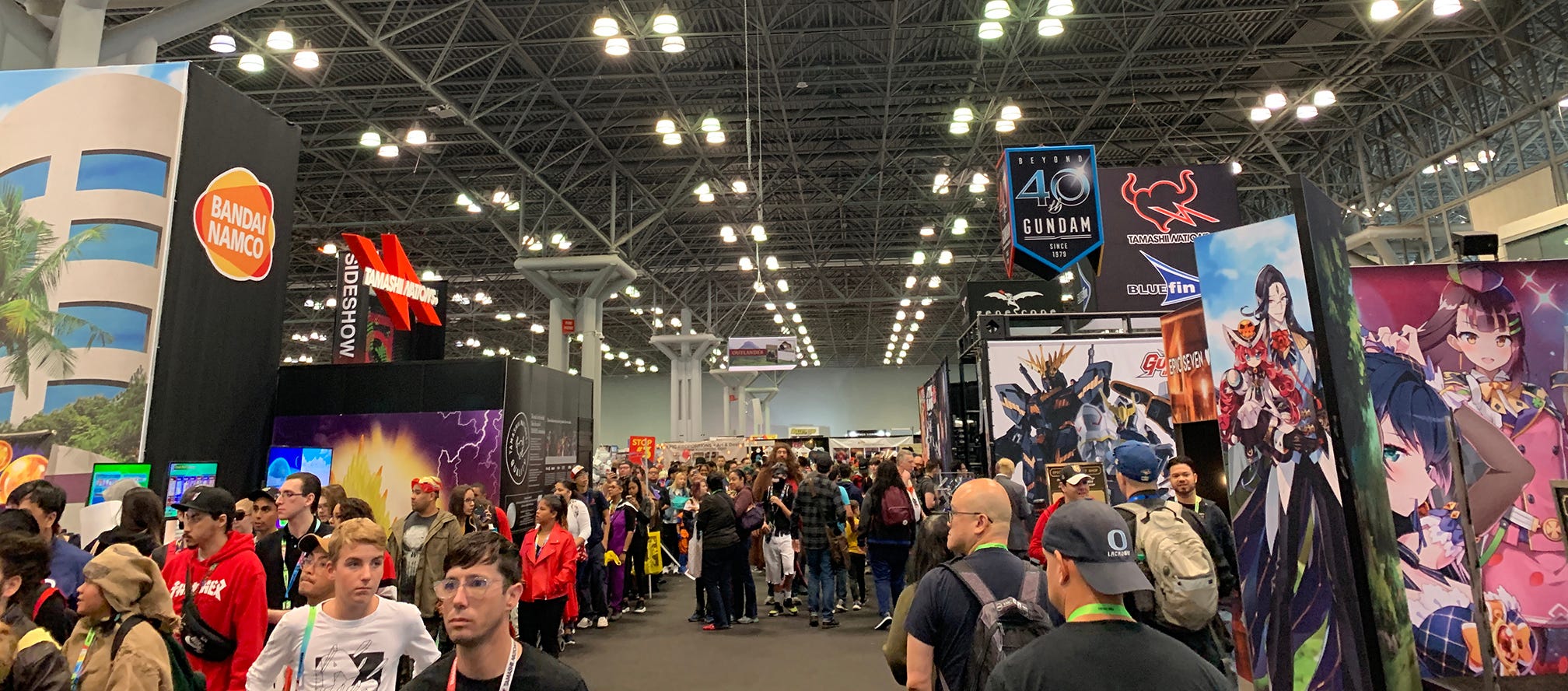 New York Comic Con (NYCC) has just begun, and it's this time of the year that thousands of fans gather to the Javits Convention Center to celebrate all that is pop culture, comics, TV shows, collectibles, and more. Due to recent events, NYCC 2020 will be held online for the first time ever, and now we can bring the fun to you, at home. Since we cannot physically attend this year, we would like to take a look back at all the wonderful things you could do at NYCC that we miss so much, and they are:
Cosplay
One of the biggest things that we and many attendees will miss this year is cosplaying. From new cosplayers to veterans, many can agree that seeing all of the different costumes really shape up the convention atmosphere. It is so exciting to see many cosplayers show off their hard-work. From weapons to mechanical costumes, we love seeing the creativeness that each cosplayer pours into their creation. We can only hope that many cosplayers are taking the time this year to craft their new costumes for 2021; which we look forward to seeing.
Autographs & Photo Op
Comic Con brings the stars to the fans, and those fans can meet the celebrity via autograph and photo op sessions. Celebrities will do these sessions during a specific time and day, so many experienced con-goers will plan ahead of time to know which celebrity they want to get an autograph from. You can find which guests are having an autograph session via visiting the con website. Although we personally don't have the time to see these wonderful guests, we can feel the positive vibes from the attendees when they talk about being able to meet someone they admire.
Artist Alley
Artist alley is another magical part of the NYCC experience. Similar to the exhibit hall, you may find yourself lost in a sea of artist and fans. The best part of artist alley is that you might find an artist you follow on social media or you will find a new artist to follow. You'll be surprised by how much merch you didn't know you needed until you head over to artist alley; from pins to keychains to limited posters, you'll find all sorts of amazing artwork available for purchase. This alley is full of passionate people doing the thing they love, and it shows in their work. When 2021 rolls around and conventions can possibly come back, we will be happy to return to this wonderful area of NYCC.
Panels
Panels are definitely a must-go if you want to hear the latest news on an upcoming television series or comic book. Lately, you'll find the coverage almost instantly online after the panel, but the atmosphere of fans makes the panels well worth checking out. If you're not into hearing about the latest television, or comic book news, there are other amazing panels, such as ones with content creators, and actors having a Q&A session talking about their past or current projects. Some of these Q&A's result in you-had-to-be-there moments, which make panels all the more special.
NYCC offers up hundreds of activations during show hours, where fans come and have a good time learning about whatever the activation is for. Activations can be found inside and outside NYCC and are great experiences that no attendee should miss out on. Last year, we had the Dragon Ball booth that showcased all the new and upcoming Dragon Ball figures from both Tamashii and Bandai America. There was a scavenger hunt that rewards attendees with all sorts of amazing swag. Fans even gathered to take photos with the props around the booth. There was even a Star Wars Meisho booth held outside the exhibit hall where you could earn a Star Wars Meisho T-shirt.
Even without physical activations this year, we are still engaging with the fans across our social media. We've got giveaways and livestreams with guests, and we encourage everyone to participate and join in on some social fun. Links to our social are down below.
One of the big attractions to NYCC is the exclusives major vendors will have on site. These exclusives are typically announced prior to the show via social media, so many attendees do a lot of research to plan and figure out which exclusive to prioritize first. After all that research and planning, it's getting to the exhibit hall as early as possible, because others are after the same thing. Trying to get exclusives during NYCC can be hard work, and requires a lot of patience waiting in lines, but for some attendees that's what makes NYCC for them.
Thanks to a little something called the Internet, we can still offer our exclusives to the fans across the US this year, which is by far pretty awesome since it doesn't require you to purchase a plane ticket.
We've explored quite a few different aspects of NYCC, and just looking back at the good times makes us feel a bit melancholy along with excited for the future. Whether you go to NYCC to cosplay, purchase exclusives', visit artist alley, or just go to panels, they each have a magical sensation that make going to NYCC exciting. We definitely miss the physical aspect, and all the cool new things to see. Hopefully there's some positive news come next year, where we can meet all the fans once again.
NYCC Metaverse will be held Oct 8-11. Be sure to check out our page to view our exclusives and great bundles for sale.
Do you miss attending shows like NYCC? What are your favorite things to do at NYCC? Let us know in the comment section below.
Follow us @Bluefinbrands on Facebook, Instagram, and Twitter for the latest announcements, news and giveaways.