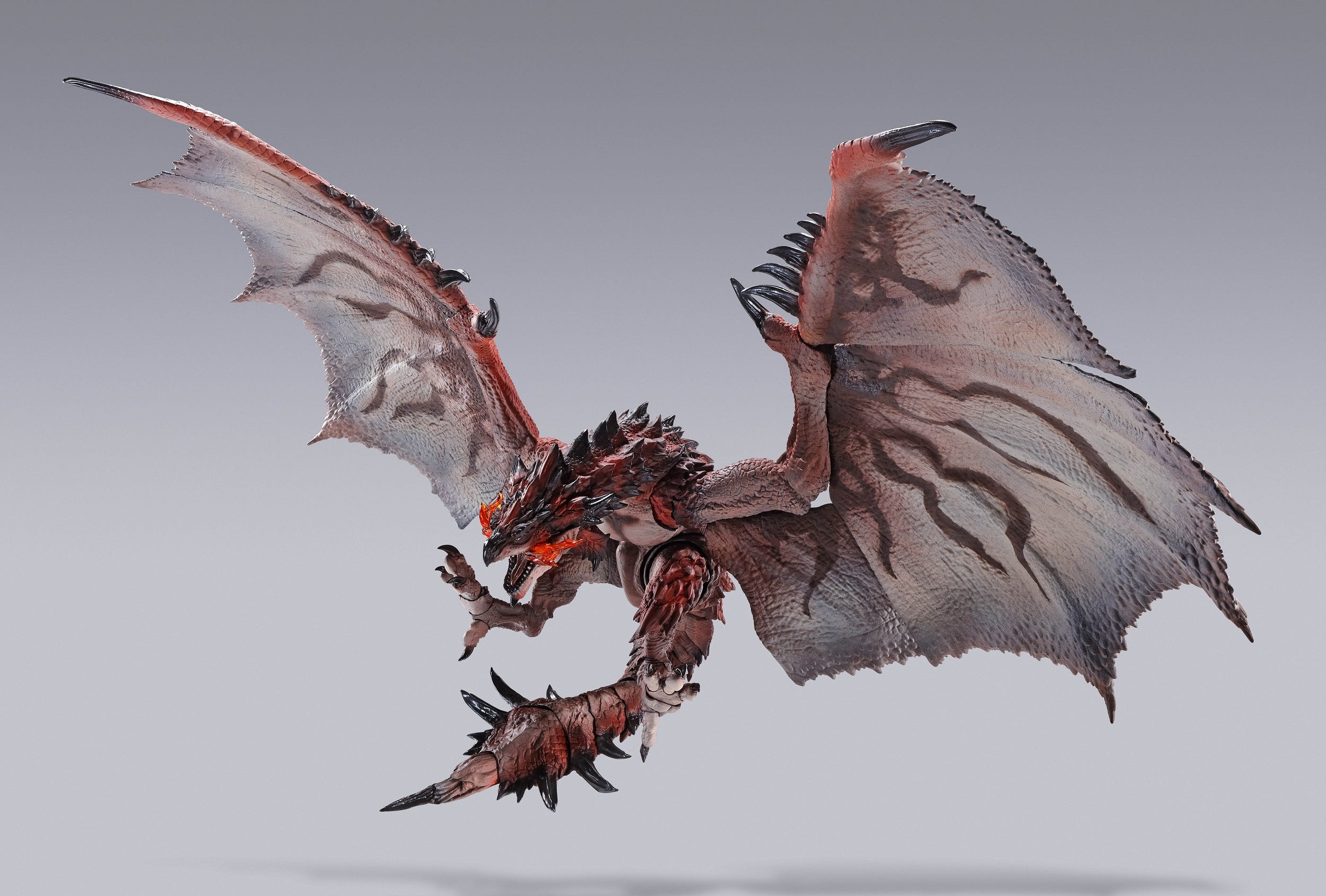 Tamashii Nations announced today Rathalos will be coming to S.H. MonsterArts in November 2020. This exciting news comes hot off the heels of the recently announced Monster Hunter S.H.MonsterArts figure line. The inaugural figure will be the Nargacuga featured in Monster Hunter World: Iceborne. Rathalos aka "The King of the Skies" is often considered to be the face of the Monster Hunter series. Its reputation is legendary and hunters from all over the world have been marked as prey and fallen victim to its venomous claws and fiery breath.
Monster Hunter fans are very passionate and protective of the long running series. Great care and direction were important in creating these figures, so Tamashii Nations partnered with Kaname Fujioka, Monster Hunter Series Director. Kaname Fujioka was directly involved with the design, sculpting, proportions, and colors for the figures. Recreating these regal and elegant creatures from the game to your collection.
From Monster Hunter Series Director Kaname Fujioka:
---
"S.H. MonsterArts is making monsters from Monster Hunter! S.H. MonsterArts is a series devoted to capturing the essence of monsters, both from visual and biological standpoints, so I am very much looking forward to seeing how the monsters from Monster Hunter turn out."
The BANDAI SPIRITS team warmly welcomed my cooperation from the earliest stages of development, and I'm very excited to see how they have brought the Monster Hunter monsters to vibrant, posable life. I hope you enjoy them too!"
---
Rathalos will come packed with optional wing parts to swap out for open and closed poses. The figure will also include fire breath effect parts and a custom stand which supports both flying and closed-wing poses. You are going to need a lot of room on your shelf as Rathalos has a wingspan over 15 inches! Look for S.H. MonsterArts Rathalos to hit stores in November 2020.
The Nargacuga S.H. MonsterArts will arrive first, hitting stores and shelves in October. It's worth noting the Hunter Figure see in promotional images and videos is a limited first release. Meaning, it will only be included in the initial release of the Nargacuga S.H. MonsterArts figure. Once it's gone, it's gone.